Considering DiSC Certification?
DiSC Certification aims to increase confidence and competence in delivering the Everything DiSC Workplace Training Program.
This course offers content and support based on the principles of the DiSC® model and research. Learners will gain the expertise and credentials needed to deliver a DiSC Workshop within their organization. The activities in this course are designed to provide practice in facilitating small groups, coaching individuals, and navigating challenging scenarios that may arise with participants.
Learners will discover and experience the newest Everything DiSC Learning platform called Catalyst®. Additionally, Everything DiSC Certification participants will learn how to coach using the DiSC Profile.
While DiSC Certification participants join the course to learn how to teach DiSC, they will also walk away with a deeper understanding of themselves by learning more about their DiSC Personality Type. Everything DiSC Workplace certification is the best resource to gain foundational knowledge and invaluable tools for facilitating Everything DiSC Workplace.
During Everything DiSC Certification, you will:
Gain expertise in the Everything DiSC model and supporting research.
Demonstrate the ability to use the Everything DiSC Workplace reports.
Customize the Everything DiSC Workplace program to meet specific participant needs.
Navigate challenging scenarios that could arise during a workshop or coaching session.
Create strategies to promote a DiSC-based culture.
Explore MyEverythingDiSC and discover how to utilize it as an ongoing development tool.
Upon successful completion of the course, learners will receive the credential of Certified Everything DiSC Facilitator.
What Does Certification Cost?
$2,995.00/Person
Price includes your personal DiSC assessment, the Everything DiSC Catalyst kit*, a small library of DiSC books, a new EPIC account, and your seat in the course.
*Register for $1,995 if you already own the Everything DiSC Workplace facilitation kit.
What's included in the course?
You will receive a lot of materials that will help you become an expert in Everything DiSC. Here is a full list of what you will receive:
In addition, we provide you with an opportunity to take the original DiSC Paper Profile. While Everything DiSC uses a different model and advanced testing algorithms, we want to show you how far DiSC has come!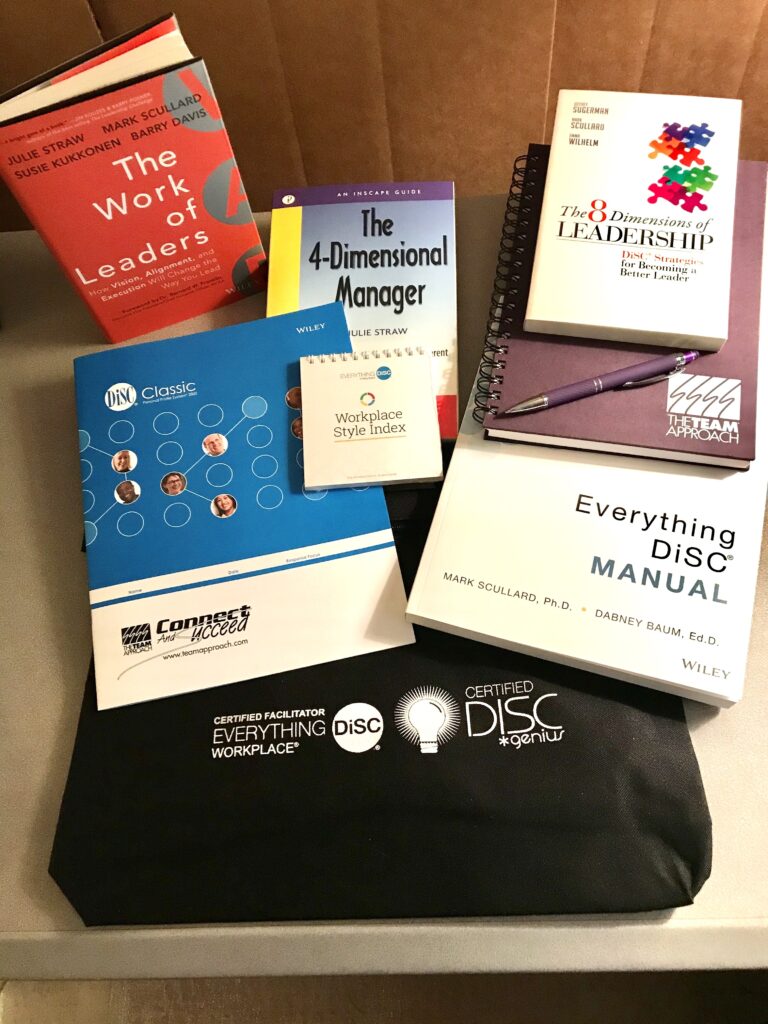 Looking to schedule a DiSC workshop?
Schedule a 2-hour DiSC Training Workshops for $1,295. This online training program will introduce your team or organization to the foundations of DiSC and strategies on how to use DiSC to improve communication, culture, and teamwork.
See what our clients are saying:
Center for Internal Change is pleased to offer three certification training options. All of the courses have a week of pre-work followed by time spent in the classroom (in-person or live digital classroom).
In-Person DiSC Certification
Minneapolis, MN
Includes Facilitation Kit

Professional Development Credits Available
Online DiSC Certification
Live, Weekly Sessions
Includes Facilitation Kit

Professional Development Credits Available
In-Person DiSC Certification
Lancaster, PA
Includes Facilitation Kit

Professional Development Credits Available
Why is there a difference in price?
Center for Internal Change is licensed by Wiley, the publisher of Everything DiSC, to conduct this Everything DiSC Certification course. For that reason, we are able to offer a discount on the certification course price. Our organization is responsible for teaching both the Online DiSC Certification and Lancaster, PA courses. The publisher of Everything DiSC teaches the Minneapolis, MN DiSC Certification course.
Everything DiSC Certification FAQ:
Do I need to be certified to teach DiSC?
No!
If you feel confident in your facilitation skills and your knowledge of DiSC, you can run a DiSC workshop without going through this certification course. All of the Everything DiSC Training programs are designed for maximum effectiveness when used with their corresponding profile. They are also designed for ease of use for trainers and learning professionals.
To purchase these programs, visit our Everything DiSC Workplace facilitation kit page.
Are DiSC assessments included in the cost of Certification?
No.
Everything DiSC assessments are sold separately. Included in the cost of certification is:
Access to the Everything DiSC administration portal which is called EPIC. 
The Everything DiSC Manual
Four additional DiSC affiliated books (The Great Connection, The 8 Dimensions of Leadership, The four-dimensional Manager, and the 8 Dimensions of Leadership).
I was already certified in DiSC. Is there a refresher discount?
Yes! 
We offer a refresher course for $1,295. This price is only available to individuals who:
Have an EPIC account with Center for Internal Change
If you are unsure about either of these requirements, please reach out to us:
email: [email protected]
phone: (847) 259-0005
What does DiSC Certification cost?
Our Everything DiSC Workplace Certification course costs $1,995 if you already have already purchased the facilitation program. If you don't have these materials you would need to register for the course for $2,995.
Is DiSC Certification only for new trainers?
DiSC certification is designed to help trainers, coaches, and learning professionals of all experience who want to improve the effectiveness of their DiSC training.
Frequently, we have trainers in our course who have run multiple DiSC workshops along with other learning professionals who have never conducted a DiSC training. Regardless of your experience, you will walk away with a better understanding of DiSC theory, how to use the profile along with the free supplemental tools, and new insights on how to customize your DiSC training to meet the needs of your learners.
What DISC assessment profile does this certification teach?
Are there any non-certification options to learn about DiSC?
If you were previously certified in DiSC, a team leader, or a business owner that doesn't want to become a certified DiSC trainer we now have a course for you.
Everything DiSC Essentials is a self-paced course that will teach learners about DiSC theory, history, and review the Everything DiSC model.
Cost: $495 
We have certified hundreds of trainers and coaches over the years. If you have more questions about this program, fill out the below form and ask us!