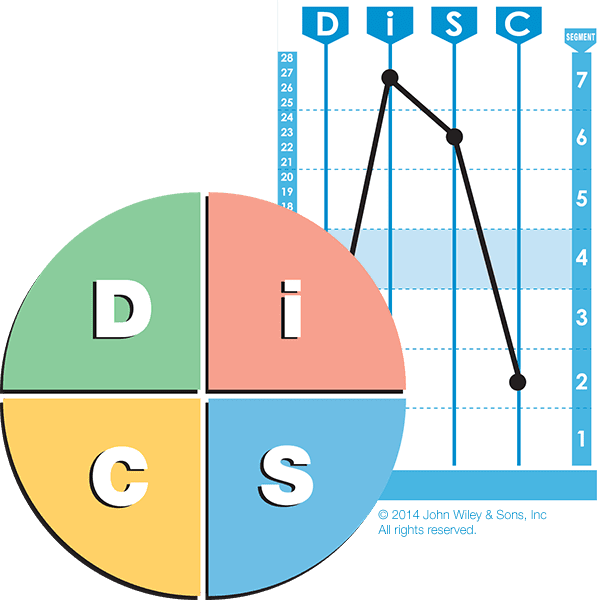 The DiSC Profile has been used by millions for over 40 years. We offer both the line graph and the circumplex models of DiSC, but we are frequently asked which one we recommend.
While there are many forms of DISC tests available, Everything DiSC® and DiSC Classic® are the only two versions of the assessment validated and published by Wiley's Workplace Learning Solutions based out of Minneapolis, MN (formerly Inscape Publishing). These assessments are the direct descendants of the very first DiSC assessment ever published. Below you will find a comparison of the key differences.
| | Everything DiSC | DiSC Classic |
| --- | --- | --- |
| | Circular model measures 8 scales versus the traditional four-scales: D, I, S, C and (SC/CS, CD/DC, Si/iS, iD/Di). Model improves in how it shows the relationship between different styles and how they can blend together.​ Published in 2009. | Traditional line-graph model. Only measures respondents on four scales. Original format of the model first published in 1970. |
| | Greater personalization. Uses adaptive testing. Highest validity of all DISC models. Includes free, extended follow-up platform with podcasts, additional DiSC Style research, and individual DiSC comparison tools. Application specific reports and supplemental training programs available (i.e. Sales, Management, Productive Conflict). | Based on Geier's original DiSC assessment. Users identify their DiSC classical pattern. |
| Assessment and Report Format | Assessment is online only due to adaptive testing which cannot be recreated in a paper format. Results in PDF.​ | Paper and online versions available. Online assessment results in PDF. |
| | Because of adaptive testing which pushes out additional assessment questions to produce the most accurate result, there isn't a set number of questions. Questions are rated on a 5-point Likert scale. | 28 forced-choice style questions.​ |
| | | 15 - 20 minutes (online). 25 - 30 minutes (self-scoring paper). |
| | Based on the latest and most current research, with the highest degree of validity and reliability of any DiSC profile. | High reliability and validity using the 38 year old DiSC graph model. It has a proven track record and large following. |
| | Online only - requires access to a computer. | Less accurate assessment can sometimes lead to being forced to retake the assessment when a respondent receives a "tight" pattern. |
It's important to make sure you are using a DISC application that has been properly researched and validated. 
The DISC theory was originally developed by William Moulton Marston and published in his book, Emotions of Normal People in 1928. Marston's idea is not owned by any one publishing company and can therefore be used to create simple DISC-based assessments by anyone. As such, it is important to locate the research reports for any assessment that you decide to use to ensure that it really measures what it says it is measuring.
When purchasing assessments from Center for Internal Change, you can be sure that you are receiving the most accurate DISC assessments available.