Five Behaviors®
Team Building
Workshop
Improve Teamwork with The Five Behaviors Training!
Improving teamwork starts with each team member recognizing how they impact their team. With this knowledge, teams can begin overcoming issues that prevent them from accomplishing their goals.
The Five Behaviors Personal Development assessment is designed to provide each team member with personalized insights about how they work on a team. When they join the training program they will complete a series of activities and discussions so they can learn how to be a more effective teammate.
Based on the insights from Patrick Lencioni's Five Dysfunctions of a Team, this teambuilding workshop is designed for organizations that want to create a culture of teamwork. Anyone in the organization, regardless of title or position, can join a training session.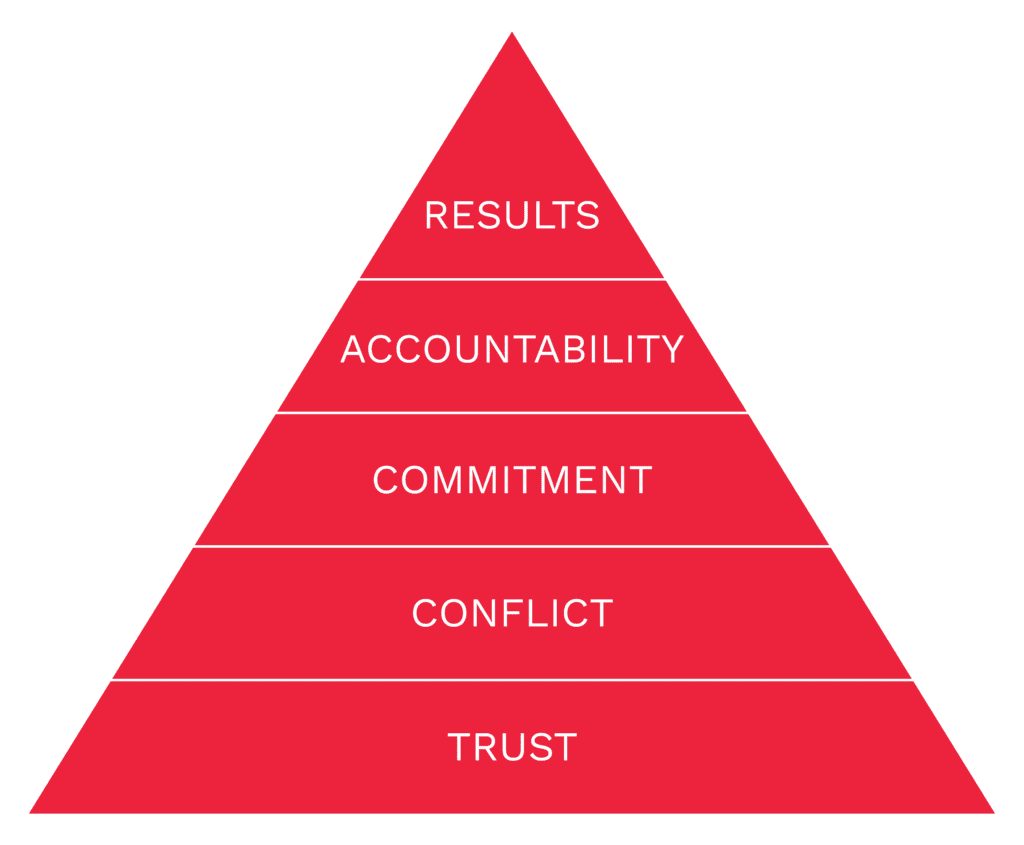 During the session, learners will walk away with an understanding of the following:
How to trust each other (and engage in vulnerability-based trust).
How to engage in conflict around ideas.
How to commit to decisions.
How to hold one another accountable.
How to focus on achieving collective results.
The training program is designed to run over a period of two 2-hour sessions that will take place online. The training does not require all participants to be on the same team. In-person options are available. Call/email for pricing and to discuss.
Teambuilding Workshop Cost
$1,795 for a series of two 2-hour online teambuilding workshops.**
**assessments sold separately
Who is the teambuilding workshop designed for?
Use this teambuilding training with anyone. 
The workshop is designed so participants can be on the same or different teams. The content focuses on the individual and how they impact the team(s) that they are on.
This course has been used with executive teams and with new hire onboarding sessions. The insights are useful for anyone within the organization, regardless of their title or position. During the session, they will walk away with insights that will impact how they work with others.
Five Behaviors Team Training Content
This course is taught online through an advanced webinar platform called Adobe Connect.
The team building workshop will take place over 2 sessions that will last 2-hours in length. During the sessions, we will cover the following program content:
| Number of Assessments | Price Per Report |
| --- | --- |
| | |
| | |
| | |
| | |
| | |
| | |
| | |
Teambuilding Workshop Learning Path
Briefing Session
Before we began this training program, we will meet with the organizer or organizational leader(s) to outline specific goals for the training program.
Join the Live Training
Our live, online training isn't like a typical online class. We use Adobe's webinar platform called Adobe Connect. Learners will join small group and partner discussions. They will watch instructional videos, engage in activities, and small group discussions. Our standard session lasts for 2-hours and takes place over two separate sessions. See the full course description. Teams or organizations can add a Team Specific program  or expand on the timing of the training to include a workshop like Everything DiSC Training.
Follow-up Activities
After the training session, we will provide learners access to our continuous learning email series. For 6 weeks, learners will receive a weekly email that will give them additional activities and tasks to further their knowledge of each behavior. 
Debriefing Session
After the team building workshop, we will meet with the organizer or organizational leader(s) to review survey results to see how well the program has accomplished the specific goals for the training program.
Need help getting started?
Let us know what questions you have about this training program.