DiSC® profile, meet Catalyst™
Everything DiSC® Catalyst™ transforms the DiSC assessments you know and love into an engaging online learning platform. Modular facilitation turns half-day workshops into half-hour lunch-and-learns. It's a flexible DiSC program to meet the needs of any group for any amount of time.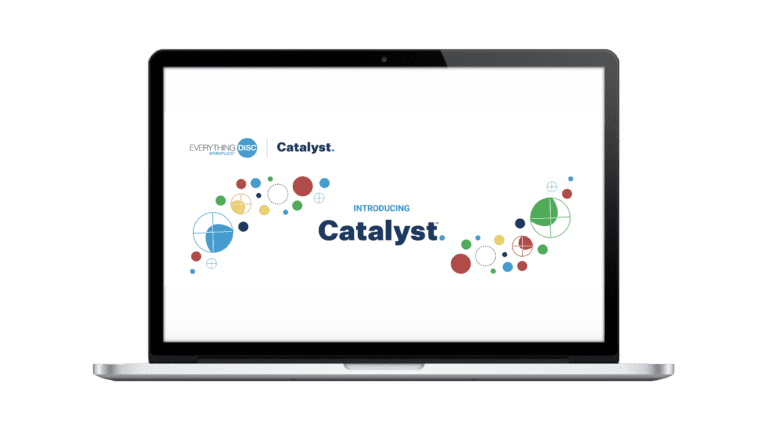 Our work environment has changed...
Our DiSC workshops should too.
Everything DiSC® Catalyst™ is a new DiSC assessment published by John Wiley & Sons. It offers an engaging learning platform that delivers the following Everything DiSC Applications: 
Everything DiSC Catalyst provides an engaging and online experience to help anyone learn more about themselves using DiSC. This platform provides learners the ability to watch short videos, connect with teammates, listen to podcasts, and work on self-development all on their own.
Additionally, the Catalyst facilitation materials were developed to take the best-selling Everything DiSC Workplace program and break it down into five short, self-contained modules. These modules can be conducted alone or in any order that meets the needs of your learners. The materials provide both online and in-person formats to provide options for organizations that are moving towards a hybrid work environment.
Our work environment has become more remote. Catalyst provides a solution to help teams feel more connected.
Jumpstart a better culture
Catalyst was designed to meet the expectations of today's hybrid workforce.
Combining instructor-led facilitation with the Catalyst platform will have a lasting impact on organizational culture. Real-time tips and engaging learning to help all learners deepen their understanding of both themselves and others.
Make your DiSC Workshop more actionable
We all love learning more about what makes us tick, but the real power of DiSC comes from learning about others and how to best interact with them, making our teams and relationships stronger. With Catalyst, your DiSC Workshop becomes stronger by giving your learners resources they can use on their own.
Add Emotional Intelligence to your Workshop.
Keep your DiSC Workshop alive by adding additional training modules like Emotional Intelligence! Catalyst eliminates the need for additional assessments. Your learners complete one assessment, and you can provide them additional training modules as you need them.
Everything DiSC Catalyst Assessment
Catalyst uses the most advanced DISC-based assessment process. Many DISC-Based assessments use a 28-forced choice questionnaire. Catalyst is
32% more accurate
than these types of assessments. It uses an assessment process called
Adaptive Testing
. The questions that a learner encounters are dependent on how they answer the previous questions. This allows for more precision and accuracy when providing a learner their assessment results. The assessment will take around 25 minutes to complete, but each learner might take a shorter or longer amount of time because of the Adaptive testing process.
Furthermore, the assessment site is redesigned for a better user experience. Questions are shown one at a time so a learner is less distracted. Additionally, this allows them to focus on each question at hand and will lead to fewer mistakes when completing the assessment. Finally, when a user completes their assessment, they are able to immediately view their DiSC profile on Catalyst. They are able to read their DiSC story and watch videos about DiSC, their Style, and other DiSC Styles before training is conducted. This type of self-discovery is crucial for increasing the transfer of learning.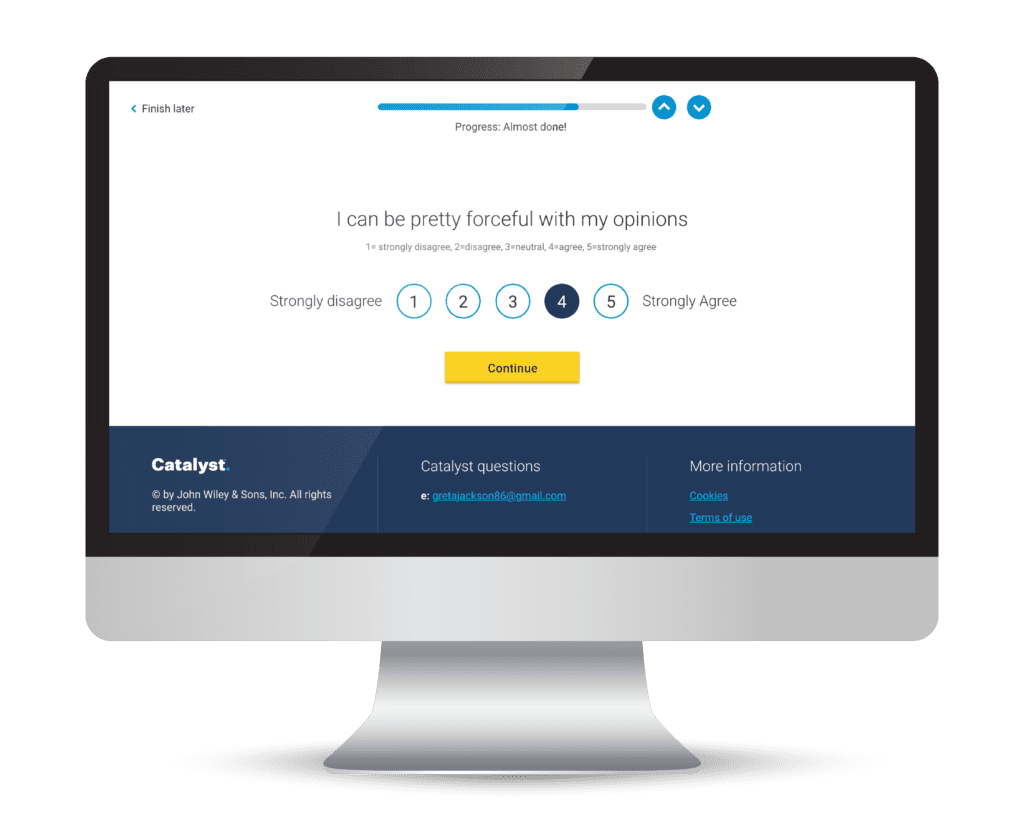 Get Started with Catalyst™
Facilitation materials are NOT required to utilize Everything DiSC Workplace on Catalyst. Simply upgrade your existing DiSC assessments for free and start engaging learners using Catalyst. If you own the Everything DiSC Workplace kit, you can download the new virtual training modules for free from the kit registration site.
Catalyst Facilitation Materials
Engaging activities and video

Online or In-person sessions
Purchase Catalyst Assessments
Everything DiSC Catalyst is administered through a platform called EPIC. With this account, you will not only have access to Catalyst but all Everything DiSC and Five Behaviors. This account also allows for organizational branding and full control over organizational assessment results.
Unsure if you have a profile that you can upgrade? Do you have an account, but you aren't sure how to start using Catalyst? Check out our Catalyst Frequently Asked Questions to get answers about this powerful, new tool.
How to upgrade to Catalyst
Catalyst for EPIC Administrators
All DiSC® assessments in your EPIC account can now be upgraded to Everything DiSC Workplace on Catalyst for free until December 31st, 2023.
Note: Respondents will need to take a new assessment to receive access to the platform and their profile regardless of which version of DiSC they took previously.
EPIC Account Recommended
Everything DiSC Catalyst is designed to help employees connect with each other to work together more effectively. For this reason, it is recommended that organizations have their own EPIC administrator account to manage employee data. If your company does not already have an EPIC account, please contact us and we can get you started.
Need help getting started?
We have helped thousands of learners move into this new platform. Let us help you get started.