Learn the History of DiSC®
Explore the history of the DISC theory and how it led to the most personalized suite of DiSC assessments available: Everything DiSC®.
DiSC History Begins with a
Theory
The DISC assessment is a 'four-quadrant' tool that an individual can use to learn about their natural and adapted behaviors and the behaviors of others. Many organizations, large and small, use this tool to help employees and staff develop better communication and self-awareness skills. Frequently, DISC is used to create a more unified culture within whole organizations. Many organizations also use it with a leadership development capacity.
Over the years, DISC has become increasingly popular, and we are often asked 'who invented DISC?' and why does your version of DiSC have a small 'I'? We created this page to provide the rich history of DISC, and how a theory and the original DISC profile became the Everything DiSC Profile that we offer today.
2007 to Today: Everything DiSC®

The first Everything DiSC application to be launched was Everything DiSC Sales in 2007. This profile presented the participant's DiSC style using the circumplex DiSC map. Unlike the DiSC Classic PPSS report (since discontinued), the Sales profile focused on helping the learner understand the relevance of his or her DiSC style to a particular role within the organization. This report contains three broad sections:
Understanding Your DiSC Sales Style
Understanding Customer Buying Styles
Adapting Your Sales Style to Your Customer's Buying Style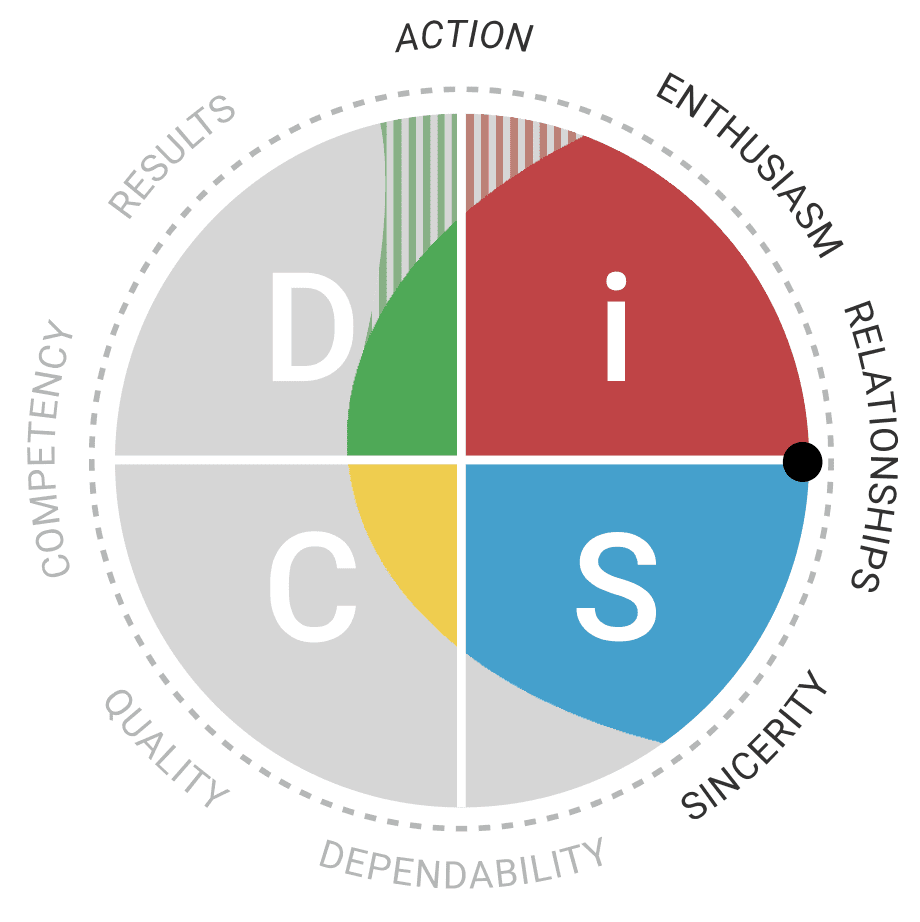 2008 – Everything DiSC® Management
The second Everything DiSC application to be launched was Everything DiSC Management. This profile is designed to help managers understand their own DiSC styles as well as the styles of the people they manage. Further, it helps managers bridge the gaps when there are style differences. The report contains five broad sections:
Your DiSC Management Style
Directing and Delegating
Motivation
Developing Others
Working with Your Manager
2009 - Everything DiSC Workplace® and Everything DiSC® Comparison Report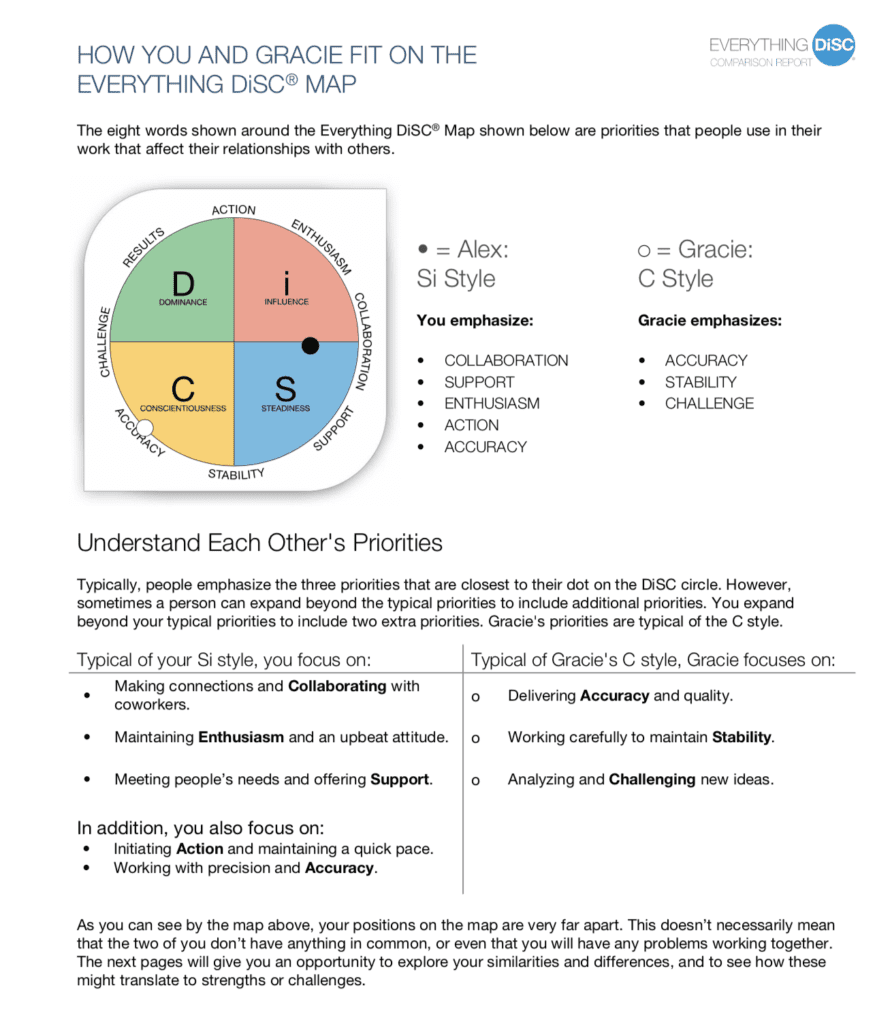 The third Everything DiSC application to be launched was Everything DiSC Workplace®. This profile is designed for use by a wide range of participants, regardless of their role in the organization. The report contains three broad sections:
• Discover Your DiSC Style
• Understanding Other Styles
• Building More Effective Relationships
At the same time, Everything DiSC Comparison Reports were launched. These reports allowed for two people to compare themselves on not only their DiSC style, but also on a series of basic personality traits, such as careful vs. daring or skeptical vs. accepting.
2010 - Everything DiSC 363® for Leaders
Drawing on three years of research, the Everything DiSC 363® for Leaders profile was launched. This is a 360-degree assessment that uses the DiSC model as a backdrop. In the assessment, observers are asked to evaluate a leader on 24 behaviors, such as finding opportunities or showing diplomacy.
Unlike other 360 assessments, DiSC 363 utilizes a commenting system that provides selectable comments to ensure that the leader reserves formative feedback without being hurt in the process.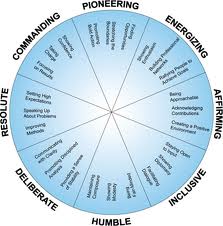 2011 - Everything DiSC Work of Leaders®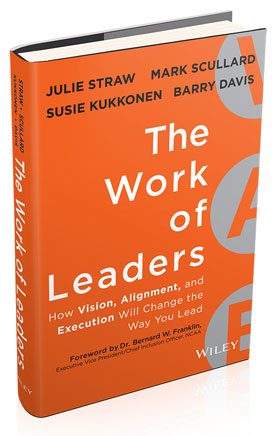 Based on extensive research, this report splits the work of leaders into three categories: Vision, Alignment, and Execution.
Using self-ratings of 18 different traits, participants are taught why some leadership behaviors come naturally to them and others require more deliberate effort. This profile doesn't discern if a person could be a leader; rather, it explains how a person would be a leader.
The profile shows a person's leadership abilities on a continuum so a participant is able to recognize their leadership capacity.
2012 - Adaptive Testing Implemented
Adaptive testing allows an assessment to change depending ona respondent's previous answers. This is useful in cases wherethe results of a standard assessment are inconclusive. In these instances, the Everything DiSC assessment will ask the respondent additional questions to reduce ambiguity in their results.
Adaptive testing is the latest improvement to increase the accuracy of the Everything DiSC assessment and make the feedback more personalized and relevant for users. Research has shown that adaptive testing has increased the accuracy by 32% compared to the forced choice DiSC Classic assessment.
2017 - Everything DiSC® Productive Conflict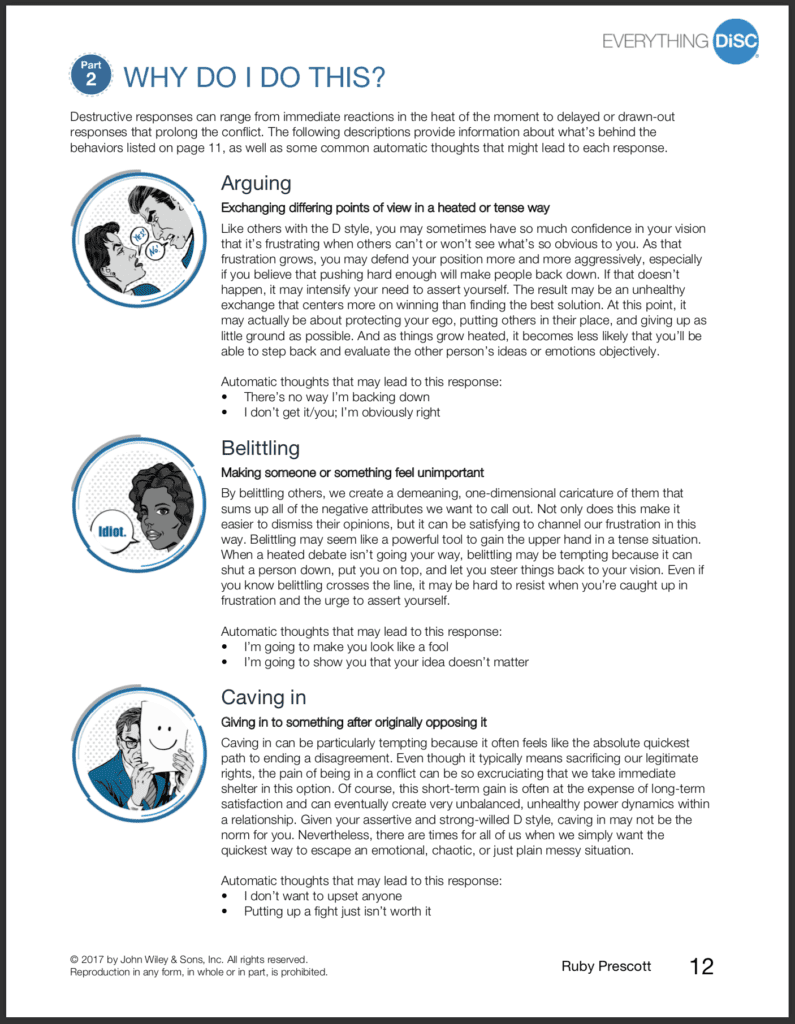 Rather than focus on a step-by-step process for conflict resolution, Everything DiSC Productive Conflict helps learners curb destructive behaviors so that conflict can become more productive, ultimately improving workplace results and relationships.
This report combines the power of DiSC with powerful imagery and content describing how workplaces can become destructive.
Everything DiSC and
the Future!
All Everything DiSC report goes through extensive beta testing. As a Center for Internal Change client, we connect our clients to these beta tests so they can be on the front lines of innovation. Find out how you can start working with us today!