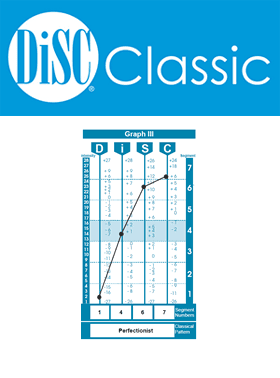 DiSC Classic® Profiles by Wiley (formally Inscape Publishing)
The DiSC Classic Profile: Personal Profile System 2800 series is the original 28 question, graph-based DISC Personality Test. We offer the paper version as the DiSC Classic and Personal Development Profile and the online version called the DiSC Classic 2.0 as well as the DiSC Classic 2 Plus.
We also offer the Everything DiSC suite of reports – the newest and most accurate DiSC assessment published by Wiley. Come to our next DiSC certification to get up to speed on the Everything DiSC Workplace report, which is the same price as the DiSC Classic 2.0 online assessment.
Learn more about the changes from DiSC Classic to Everything DiSC.
Click on a link below to learn more about or to order one of our DiSC Classic products by Wiley.
Quick-reference guides to with DiSC people-reading.

Ideal for your DISC trainings and workshops. They make great gifts and tokens to reinforce any DISC training experience.

DiSC card game compatible with DiSC Classic and Everything DiSC training.

The DiSC® Group Culture Report was designed to help you explore the DiSC style — or culture — of a group. Use with online DiSC Classic profiles.

DiSC® Classic Facilitator Report lets you build customized group reports using data from any online DiSC Classic profile.

Everything you will find in the DiSC Classic 2.0, plus up to six application-focused supplemental reports

Personalized DiSC Profile results. Easy to understand feedback with expanded narrative and detail. Instant access code and instant results option. Fifteen minutes to complete.

The original hand-scored paper DiSC profile used with international organizations for over 35 years to improve communication and decrease conflict.