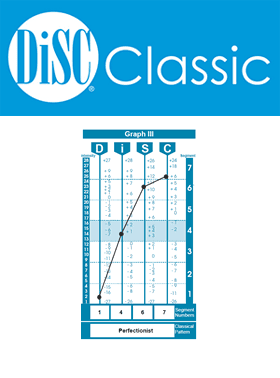 DiSC Classic® Profiles by Wiley (formerly Inscape Publishing)
DiSC Classic Profiles are built on a series of Insight Modules that help facilitate specific outcomes, or "Insights." These assessments include the Personality Profile System 2800 (DiSC Classic Paper Profile), DiSC Classic 1.0, DiSC Classic 2.0 (online version), and DiSC 2 Plus.
This classic suite of reports offer a facilitation kit called the DiSC Classic Facilitator Kit. You can use this kit to create a custom program or follow the scripted workshop right from the box. The kit includes more than 20 experiential learning activities for groups and individuals. Additionally, it includes alternative activities to help you tailor programs to fit your audience.
Only looking for a supplement to your DiSC Classic workshop? We offer a DiSC Classic Video Package which you can enhance any of your presentations with video examples of insights from the report.
The DiSC Classic Profile, Personal Profile System 2800 series, is the original 28 question, graph-based DiSC Personality Test.  We offer this classic report as a paper profile or as an online assessment called DiSC Classic 2.0.
Additionally, we offer DiSC Classic 2 Plus which includes the DiSC Classic 2.0 graph report and supplemental insights. These additional insights include strategies for how to manage effectively, creating positive relationships, and for sales management and selling.
In 2014, Wiley's Workplace Learning Solutions released the third generation of DiSC called the Everything DiSC suite of reports. Join our next DiSC certification to get up to speed on the Everything DiSC Workplace report which is priced as the DiSC Classic 2.0 online assessment.
Learn more about the changes from DiSC Classic to Everything DiSC.
Click on a link below to learn more about or to order one of our DiSC Classic products by Wiley.
Quick-reference guides to help DiSC people-reading.

Ideal for your DISC trainings and workshops. They make great gifts and tokens to reinforce any DISC training experience.

DiSC card game compatible with DiSC Classic and Everything DiSC training.

The DiSC® Group Culture Report was designed to help you explore the DiSC style — or culture — of a group. Use with online DiSC Classic profiles.

DiSC® Classic Facilitator Report lets you build customized group reports using data from any online DiSC Classic profile.

Everything you will find in the DiSC Classic 2.0, plus up to six application-focused supplemental reports

Personalized DiSC Profile results. Easy to understand feedback with expanded narrative and detail. Instant access code and instant results option. Fifteen minutes to complete.

The original hand-scored paper DiSC profile used with international organizations for over 35 years to improve communication and decrease conflict.