Online DiSC® Certification
Become a Certified Practitioner online!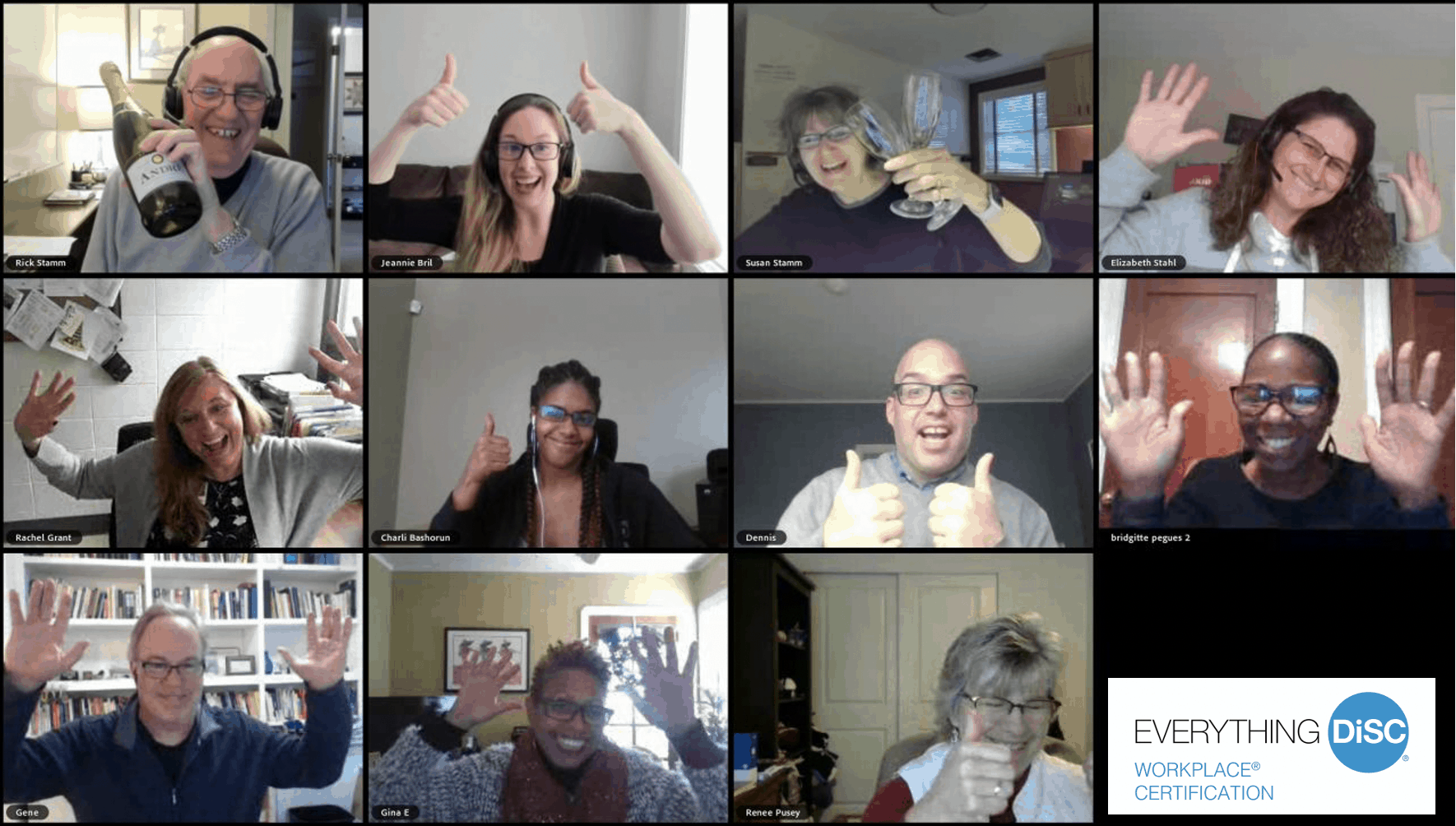 Become an Everything DiSC® Certified Practitioner!
The Everything DiSC online certification course is designed to increase confidence and expertise in using the Everything DiSC on Catalyst training program. This course utilizes online, self-directed coursework combined with interactive, online classes. Designed for facilitators or coaches interested in using DiSC in their training or coaching sessions.
DiSC Applications available on Catalyst:
Our online DiSC Certification course offers an exclusive bonus session that is only available for Center for Internal Change clients. During this session, learners are introduced to other Everything DiSC applications, additional activities, and enhancements to the facilitated training program that we have developed over our 30+ years of experience using DiSC. Participants will also get to review the Five Behaviors training programs, which are powered by Everything DiSC and available in your administration account.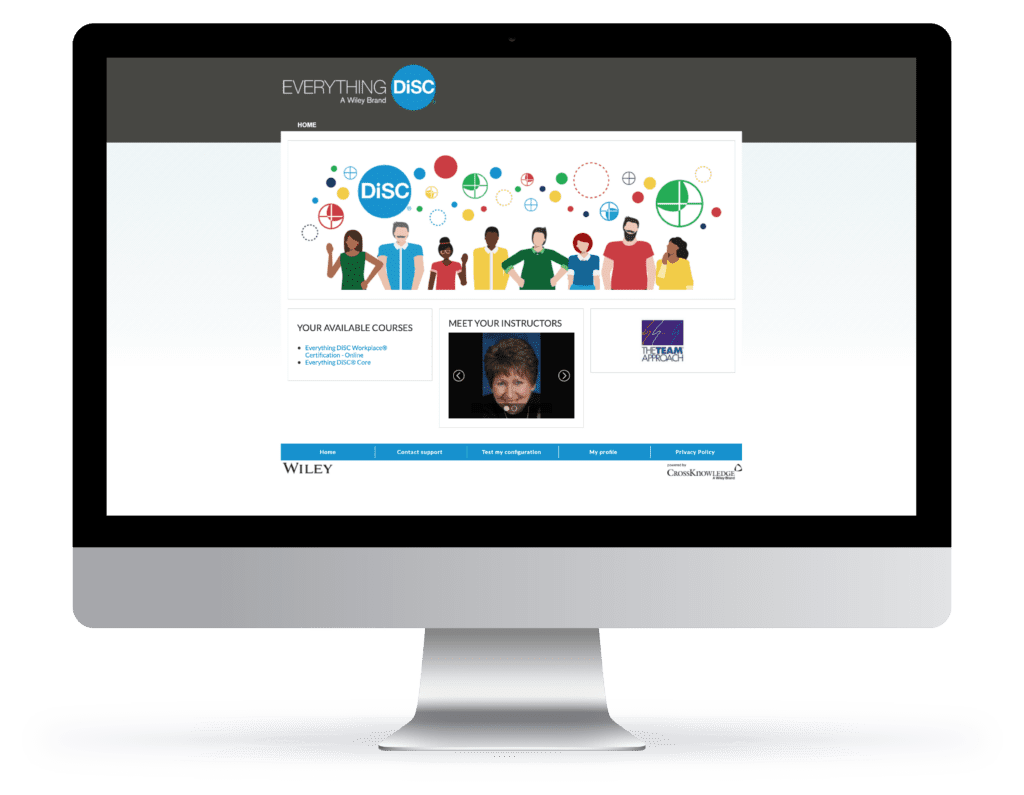 15 – 18 hours of self-directed, online coursework.
8 hours of application-focused learning and discussions.
Your own Everything DiSC on Catalyst assessment.
A culminating project focused on building a unique DiSC workshop for your organization or clients.
Practice using the Everything DiSC on Catalyst suite of reports for your group facilitation or individual coaching.
Completion of the final exam.
Option to join our Bonus Session for information on additional workshop activities and an introduction to other Everything DiSC-based applications.
DiSC Certification Price: $2,995*
Two-Week Online Certification Process
The online Everything DiSC Certification Course is condensed into two weeks. Because of the fast-pace, it's imperative that anyone considering this course is available to join every live class and is able to commit to completing the self-directed work prior to each live session. Below is an outline of what you can expect each day over the two-weeks:
Self-Directed Online Learning
Complete your Everything DiSC Catalyst Assessment.
Review the DiSC Model
Complete all pre-work for Live Session #1.
Live Session #1
Attendance Required!
Facilitated DiSC on Catalyst experience.
Fundamentals of DiSC, its theory, and research.
Introduction to your group project assignment.
Self-Directed Online Learning
Understanding DiSC feedback and research.
Discover more Everything DiSC tools.
Complete all pre-work for Live Session #2.
Live Session #2
Attendance Required!
Learn to coach with Everything DiSC.
Apply your DiSC knowledge through case study activities.
Self-Directed Online Learning
Conduct a needs assessment for Workshop Project
Learn to use DiSC to understand others.
Self-Directed Online Learning
Complete all pre-work for Live Session #3.
Live Session #3
Attendance Required!
Facilitating and coaching practice.
Debrief and feedback.
Understanding your DiSC style as a facilitator.
Self-Directed Online Learning
Explore and facilitate with tools on Catalyst.
Evaluating your sessions.
Complete all pre-work for Live Session #4.
Live Session #4
Attendance Required!
Project presentations.
Session wrap-up and directions for final exam.
Self-Directed Online Learning
Next steps with Everything DiSC.
Exam opens.
You are required to join all four live sessions to receive your credential!
What's included in your registration fee?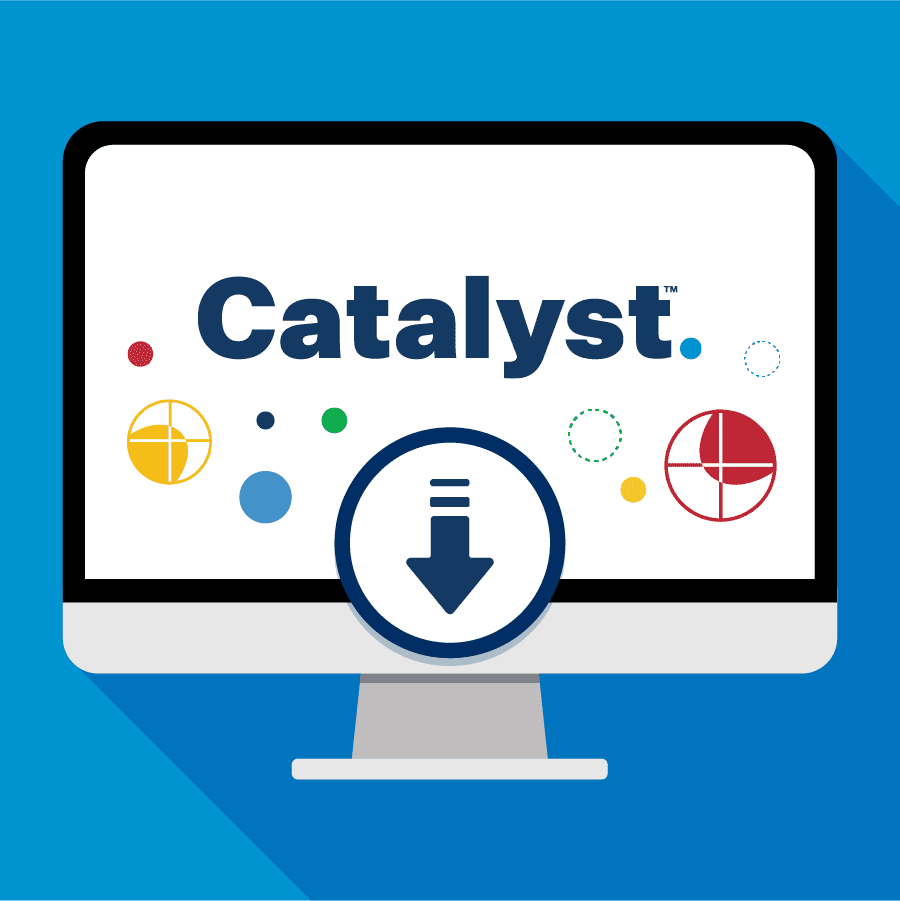 Downloadable activities, handouts, videos, leader's guide, and customizable PowerPoints.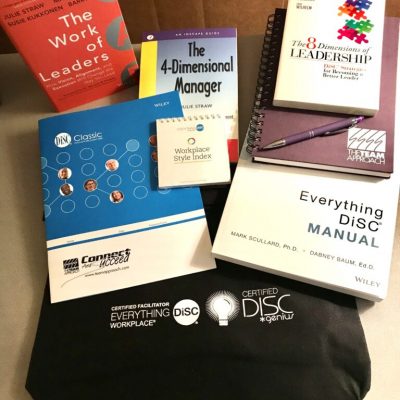 Take your DiSC learning to the next level with our library of DiSC-related books! Not required reading for the course.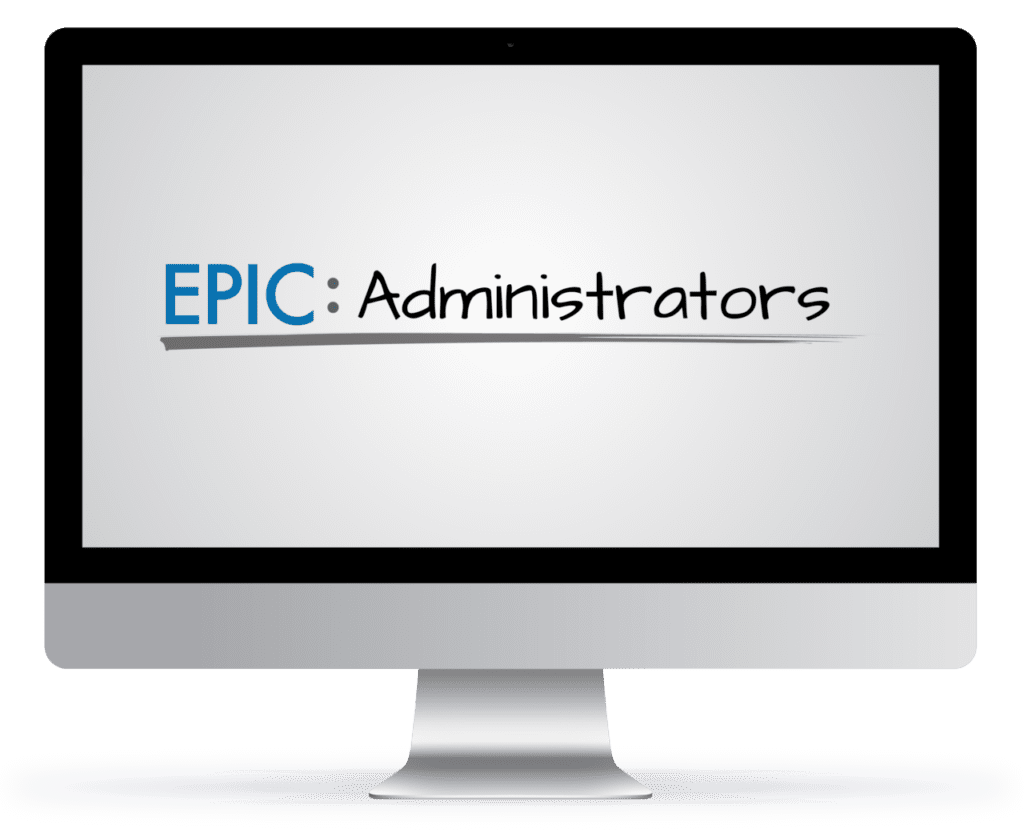 Included in the cost of Certification is access to EPIC, the administrative portal for Everything DiSC.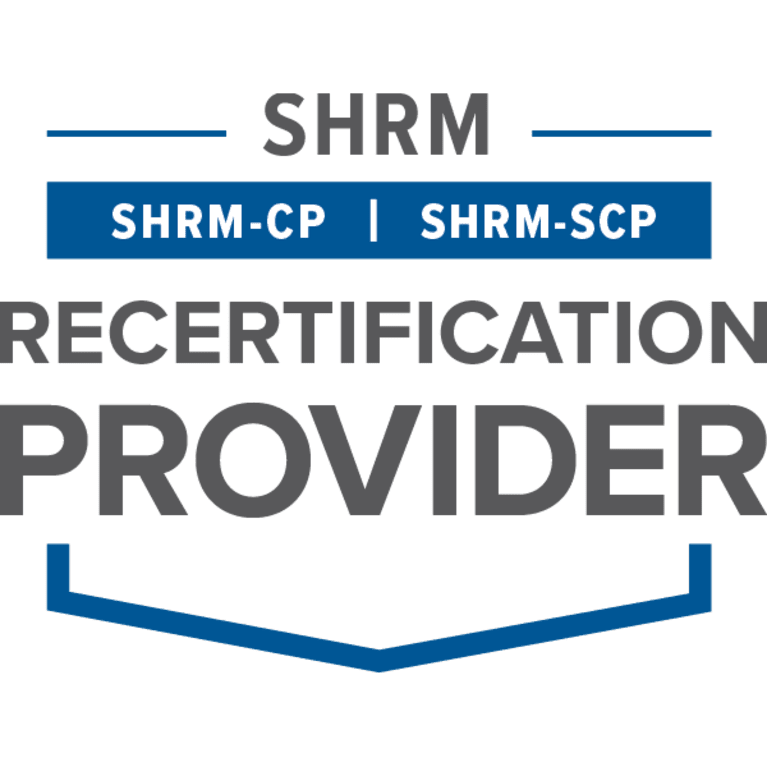 When you complete the Everything DiSC Certification course, you have the ability to earn 20 SHRM PDCs.
*Due to the high rates of shipping internationally, registrants outside of the United States or Canada will only receive an electronic copy of The Everything DiSC Manual. All other physical items can be shipped at the cost of the international shipping fee. Contact us for pricing.
Where will the live sessions take place?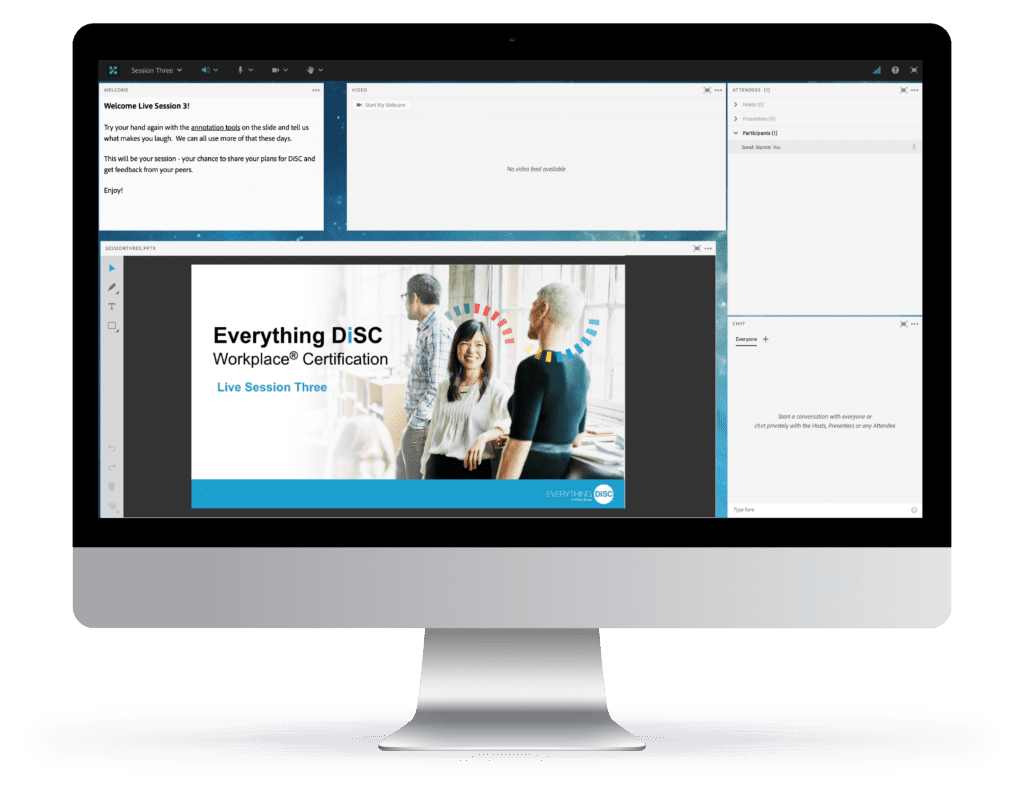 Live, virtual classes on Adobe Connect.
Make sure that you have a stable internet connection and access to: a quiet room, a video camera, headphones, and a microphone for each of our four live sessions.
You will need to download the Adobe Connect application to join the sessions. We strongly encourage all learners to test Adobe Connect prior to your orientation session.
All other coursework will be completed in the online training center.
Upcoming
Online
Certification Dates:
Meet your DiSC Certification Training Team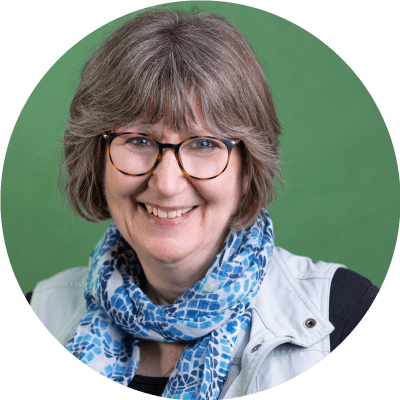 Susan Stamm
Susan Stamm has helped improve teams for over 30-years. She has certified hundreds of trainers, coaches, and facilitators in DiSC over the years. Learners will benefit from her experience in the classroom, and she is there to help after the course concludes to help trainers work through any issues they might encounter as they start to roll out their DiSC implementation plan. She is the author of 42 Rules for Employee Engagement.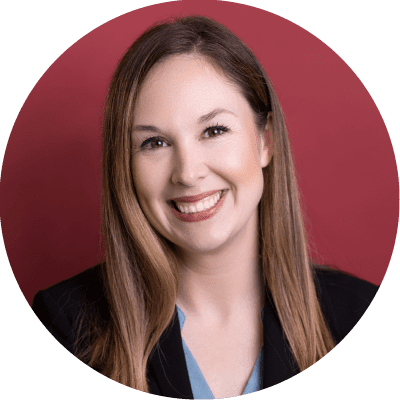 Jeannie Bril
Jeannie began her DiSC career certifying DiSC facilitators with Wiley (the publisher of Everything DiSC)! After years of working with the publisher of DiSC and then a few more years in the field seeing DiSC in action with a construction management company, Jeannie has landed on our team to bring the best insights and perspectives to our certification course.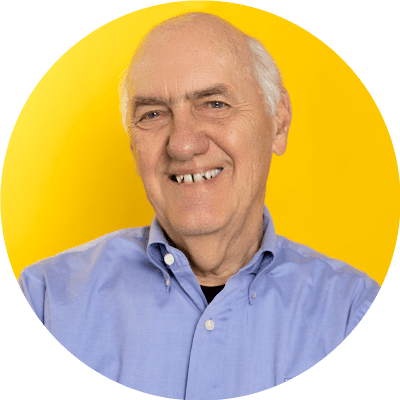 Rick Stamm
Rick began his career in the field of Vocational Rehabilitation and has always believed that work is central to a person's well-being. He believes that teamwork is the key to service excellence, innovation, and increased productivity in any kind of business. It is from this foundation that he found DiSC to be a powerful medium to help build better teams. He strives to help anyone become the best that they can be.