Catalyst Frequently Asked Questions
Get answers to the most frequently asked questions about Everything DiSC Catalyst.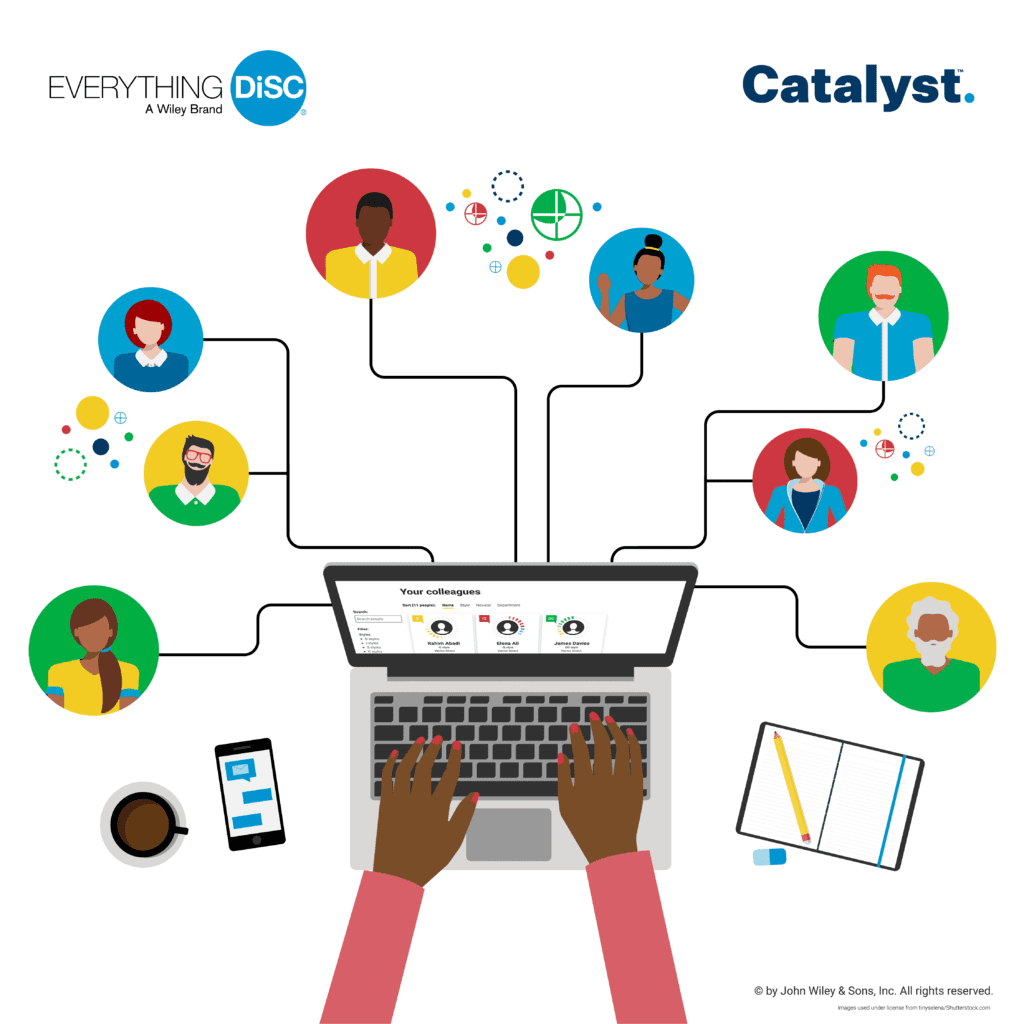 Everything DiSC Catalyst FAQ
Everything DiSC Catalyst has changed how we conduct a DiSC Workshop. This product will continue to go through many future changes and will continue to add many features. We have created this page to answer questions that we have recently received. If you don't see any answer to your question, please call or email us. We have added a form at the bottom of this page where you can also submit your question.
What is Everything DiSC Catalyst?
Everything DiSC Catalyst is a new assessment published by John Wiley & Sons.
When a learner completes their Everything DiSC Catalyst assessment, they will receive access to a platform that they will use to better understand themselves and how to use DiSC to improve interpersonal relationships.
Catalyst was designed to make it easier so trainers and coaches can add new training modules to a learner's Catalyst account. Catalyst provides trainers, coaches, and learning & development professionals to ability to give their learners access to:
Productive Conflict
Management
On this platform, learners can easily connect with those in their organization. A learner is placed in their organization before they take the assessment, and they are immediately connected once they complete their assessment.
Is the assessment free for everyone?
No. Only learners who have previously taken an Everything DiSC or DiSC Classic 2.0 assessment are eligible for the free upgrade (until December 31, 2023). For learners who have never taken DiSC before, the cost is 15 credits.
Which Everything DiSC applications are available on Catalyst?
Everything DiSC Workplace, Agile EQ, and Management are currently available on Catalyst. Here are all of the applications that you will be able to use on Catalyst:
Workplace
Productive Conflict
Management
Agile EQ
How do I issue the Workplace on Catalyst assessment?
You will issue the assessment by logging into EPIC and going to Manage Reports>Create New Report/Issue Access Code(s). Select "Everything DiSC" as the product family and "Catalyst: Workplace" as the product. When you get to adding respondents, be sure to use the "use existing reports" tab to take advantage of the free upgrade.
Check out this quick video to see how this process is done: https://youtu.be/BuAF2-oqIkU
How long does it take to complete the Catalyst assessment?
The Catalyst assessment asks questions from multiple applications: Workplace, Management, Agile EQ, and Productive Conflict. If a learner previously completed one of these assessments and their existing data is used, the assessment will take 5-10 minutes to complete. If a learner is upgrading from DiSC Classic or has never taken a DiSC assessment, it will take 20-30 minutes.
Are facilitation materials that are sold separately required to run this program?
No! We will always recommend using the facilitation materials to provide learners with the best possible experience. However, they are not required to use Catalyst. These materials are free to download for registered Workplace kit holders.
Will learners use Catalyst during a training?
Yes, learners will need access to Catalyst during virtual training. However, Catalyst is not a video conferencing platform. To conduct the virtual facilitation, you will use your own video conferencing tool with learners while they are logged into their individual Catalyst platform. We recommend learners bring Catalyst up on a different screen or device to avoid toggling back and forth.
Can I use Catalyst for an in-person workshop?
Yes!
Materials are now available to use Catalyst for in-person workshops.
What is the difference between Everything DiSC Workplace and Workplace on Catalyst?
Catalyst is the new learner platform that will change the DiSC experience for your learners. They will still receive the same content you're used to with Everything DiSC Workplace, but it will be delivered through the Catalyst platform rather than solely through a PDF.
Learners on Catalyst will still have access to a PDF copy of their report, but it won't be the central part of their DiSC profile.
If I issue an Everything DiSC Workplace assessment, can I add the Catalyst platform later?
No. Catalyst is a separate product, so you must issue an access code for Catalyst: Workplace. Until December 31, 2023, you can take advantage of the free upgrade from Everything DiSC Workplace to Catalyst. However, your learners must respond to additional assessment questions before they can access the Catalyst platform, so if you're considering Catalyst, it is best to make the switch in advance.
What will learners need to access Catalyst?
Learners will need access to email to create a Catalyst account and take the online assessment. Catalyst is designed for learners to continue logging onto the Catalyst website to learn more and gain real-time tips about working with colleagues. For this reason, Catalyst may not be suited for learners who have limited access to a computer or smart device.
Will learners receive access to the Catalyst platform and their assessment results immediately?
Yes. Learners will receive access to their results and to the Catalyst platform immediately upon completing the assessment. This provides a streamlined leaner experience and aligns with today's expectations of online learning. Trainers wishing to delay the delivery of DiSC information should consider Everything DiSC Workplace instead.
Is there still a PDF profile available with Catalyst?
Yes. Learners are able to download the PDF version of their profile from the Catalyst website. However, all of the same information in the report is available through the Catalyst platform along with additional information in videos and podcasts.
Who is visible in the People section of Catalyst?
Anyone who has taken Catalyst within that organization. Organizations with different locations can be treated as separate organizations for the purpose of the People section in Catalyst. There is no option to not allow a person's profile to not show up in this section.
My learners don't want their DiSC style visible to others. Can I disable the 'People' section of Catalyst?
Yes!
Learners are able to turn their account to 'private.' This ability will not allow anyone else to view or compare DiSC styles with the learner.
Will learners who use Catalyst also have access to MyEverythingDiSC
No. MyEverythingDiSC is not available for new Everything DiSC Catalyst learners.
However, if you previously had access to MyEverythingDiSC, and you upgraded your profile to Catalyst, you will still have access to MyEverythingDiSC while this resource is available.
I would like to see the platform for myself before using it with others. Is this possible?
Absolutely! We always recommend experiencing DiSC for yourself before sharing it with others. If you already have a DiSC Classic or Everything DiSC assessment, you can experience Catalyst for free any time between now and December 31st, 2023. 
Have a different question?
Fill out the below form and let us know your question and we will be in touch soon.