Leadership Essentials for Supervisors
Supervisors have the most contact with the largest part of your workforce. This means their leadership skills will significantly affect employee engagement and results. Supervisors are usually selected for their role because they are excellent individual contributors. However, even for standout employees, leadership skills are new skills to learn and require training and experience to master. Learning these skills can make the difference between average or exceptional leadership.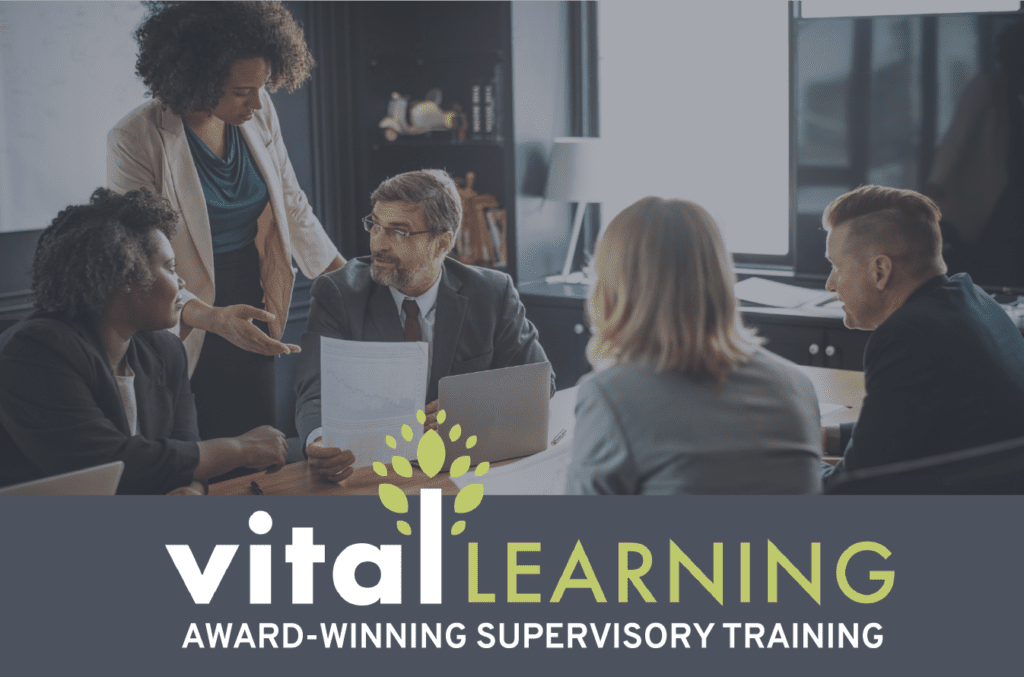 The Leadership Essentials Series can be facilitated by your in-house or external trainers. 
Need a facilitator? Email us.
The Leadership Essentials Series provides a framework for leaders to learn practical management skills.
This series contains 12 separate modules that cover the essential skills all supervisors should have.
Organizations can choose to have their leaders go through every module or pick and choose which modules are most needed for any given cohort of leaders.
After the course, each leader receives access to a free reinforcement tool. This tool includes a scoreboard to engage learners through the use of friendly competition.
Attend one of our upcoming webinars to evaluate Vital Learning's supervisory content for your organization. During these complimentary sessions, you will:
Experience some learning activities from a module
See the content from the learner's perspective
Gain access to sample materials used in the training
Get a big picture of the series.
Online Course
Digital workbook and online course
Classroom Learning
Participant workbook for in-person or virtual class
Flexible delivery options
Blended Learning
Online course and in-person participant workbook
Accommodates tight schedules
VitalPass = unlimited learning!
Access all of Vital Learning's award winning content in a convenient annual subscription. Check out the video to learn more or contact us. 
Facilitation for the Leadership Essentials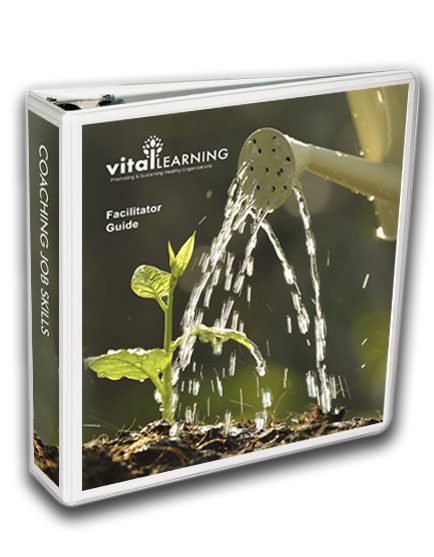 Each module in the Leadership Essentials Series has an accompanying facilitator's guide. These materials are designed for anyone to use with no certification requirement.
Each set of materials includes information on how to run the module and classroom activities. To help you prepare, we also provide on-demand train-the-trainers at no additional cost.
Need help finding the right solution?
The Leadership Essentials Series
The twelve modules of the Leadership Essential Series can be completed in any order. However, we recommend starting with the Essential Skills of Leadership and/or the Essential Skills of Communicating. Pick and choose the courses that meet the needs of your managers and supervisors. For suggestions on planning your coursework, please give us a call at (847) 259-0005.
Watch a Train-the-Trainer
Get up and running with the Leadership Essentials quickly and experience the greatest delivery success with our on-demand train-the-trainers (TTT). Available for each module in the Leadership Essentials Series, these recordings include extra and alternate activities, enhancements, check-lists, and delivery tips. To help you evaluate Vital Learning's content, we will provide you with free access to one module to give you an in-depth look at a model and support you in your vetting process. Each set of facilitation materials comes with the accompanying train-the-trainer.