Essential Skills of Communicating
What's the cost of poor communication skills?
The Society of Human Resource Management highlighted a study of 400 companies, each with 100,000 employees, and found that the average loss in revenue to each was 62 million per year. Most communication errors have to do with a failure of pretty basic communication skills- the very skills that are featured in the Essential Skills of Communicating:
Craft clear and concise messages
Deliver messages designed for the team member
Listen to communicate
Manage non-verbal behaviors
The cost of poor communication:
The Essential Skills of Communicating is a foundational course in the Vital Learning's award-winning Leadership Essentials Series. It focuses on core practical communication skills that leaders use every day. Furthermore, once the communication skills are learned, they can be applied when learning other leadership skills taught in this 12-part series. 
This course starts by showcasing the attributes of great communication. Leaders go through an exercise that will help demonstrate why communication skills are essential. The leaders are then introduced to a series of skill points which they will be required to learn throughout the course. The course uses this balance of active learning with instruction throughout the full course.
Leaders will learn how to provide clear and concise communications, how to tweak their communications for a specific team member, how to listen when communicating, and they will review nonverbal communication cues. At the end of the course, learners are provided reinforcement activities to ensure the learning sticks after the class has concluded.
Learning Objectives
Utilize an empowering and dynamic communication process to increase team members' motivation and commitment.

Construct and express clear and concise messages in both written and spoken communication.

Deliver messages that address the interests of the listener.

Make verbal and nonverbal communication congruent to reinforce the intent of messages.

Use

Reflecting, Probing, Supporting, Advising

to demonstrate active listening to others.

Provide the rationale for your feedback, whether to reinforce or improve performance.
In-person, Online or Blended learning options
Are you a new manager looking to learn how to effectively communicate with your direct reports? Perhaps you are an HR professional looking to bolster your organization's leadership development program by teaching Effective Communication Skills. This course fits both training needs because it is available in multiple formats.
What does the course cost?
The pricing below is for a single workbook or single online course credit for one leader.
Education pricing is available for workforce development programs through local colleges. Organizations that have 25 or more managers are able to purchase a subscription to the full course. Please email us for details.
Free and engaging follow-up training
Regardless of the training option that you choose, you will receive access to follow-up tools that will help leaders retain and apply what they learn. The tools range from printable handouts that leaders will use as a guide as they apply what they learned on the job.
On-the-job guide – leaders will be able to review key points that will help them during their day-to-day responsibilities as managers.
 Follow-up activities – All courses include 6-weeks of micro-learning activities. These activities are used as competitions when the training is used in a group learning format.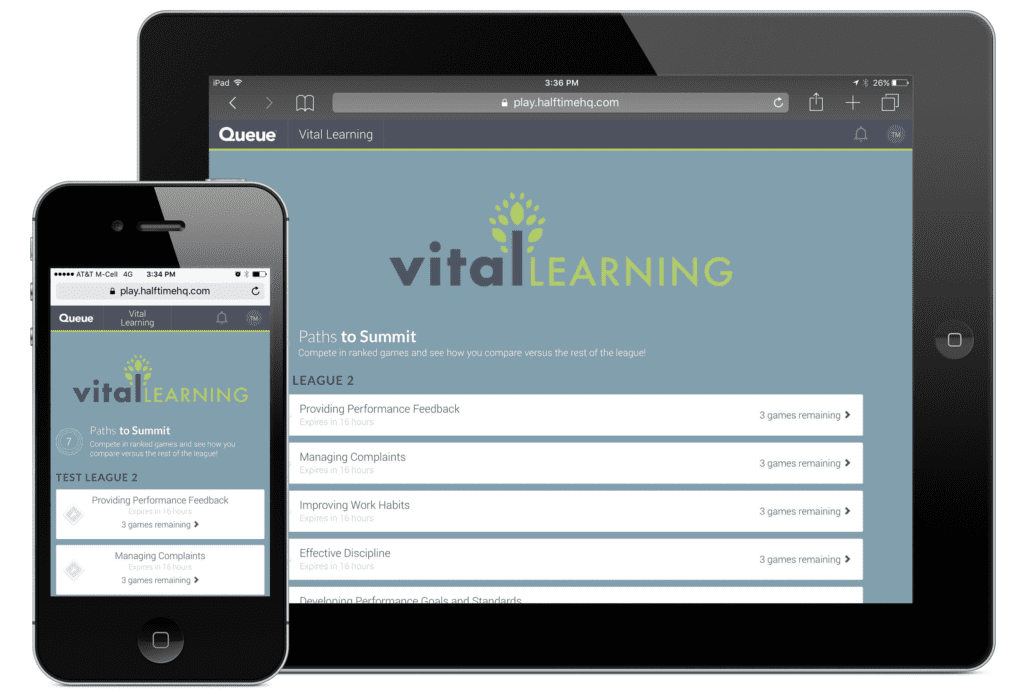 Frequently Asked Questions
Try our pilot package: Buy 20 workbooks and get a free facilitation kit.
You might be interested in these courses