Imagine that you are relatively new to your team. You follow rules, get things done on time, and produce high-quality work.
You have a co-worker named Fred who sits one desk over. While you don't monitor Fred, it seems that he is always shopping or looking at cars, music videos, or other personal surfing activities. You assume he works quickly and lacks enough work to keep him busy. However, this activity seems so often, you begin to wonder when he works. 
Work habits cover a range of non-performance related behaviors including abuse of PTO, using drugs/alcohol on the job, being personally disorganized, or not being able to work well with others. Regardless of the challenge, work habits need to be addressed quickly. 
Employees know when someone on the team is getting away with poor work habits. They watch and wait for the supervisor to act. When the supervisor doesn't take any action, the team's morale suffers because it feels unfair.
Vital Learning's course on Improving Work Habits provides a clear path for addressing these kinds of issues swiftly and effectively. It provides clear guidance and the ability for supervisors to practice these skills prior to using them on the job.
The Improving Work Habits course begins by helping leaders determine if an issue is because of poor work habits or performance. While these two issues are closely related, the course helps the leader determine how to move forward in either scenario. Next, leaders will learn how to talk about and describe the work habit issue. Finally, the course will help leaders practice these skills through the use of a series of skill points. Leaders are expected to showcase how to use these skill points.
At the conclusion of the course, leaders will have access to two re-enforcement tools to ensure that the learning sticks.
Learning Objectives
Understand why unsatisfactory work habits must be dealt with quickly before requiring disciplinary action.

Distinguish between a performance issue and a poor work habit.

Describe the team member's poor work habit objectively and factually

Ensure the team member takes ownership of the poor work habit and takes responsibility for solving the issue.

Respond with empathy to team member reactions and concerns to maintain team member self-esteem.

Use the

Improving Work Habits

Skill Points to plan and conduct a meeting with your team member.
In-person, Online or Blended learning options
Are you a new manager looking to learn how to effectively talk with a team member about a poor work habit? Perhaps you are an HR professional looking to bolster your organization's leadership development program by teaching how to Improve Work Habits. This course fits both training needs because it is available in multiple formats.
What does the course cost?
The pricing below is for a single workbook or single online course credit for one leader.
Education pricing is available for workforce development programs through local colleges. Organizations that have 25 or more managers are able to purchase a subscription to the full course. Please email us for details.
Free and engaging follow-up training
Regardless of the training option that you choose, you will receive access to follow-up tools that will help leaders retain and apply what they learn. The tools range from printable handouts that leaders will use as a guide as they apply what they learned on the job.
On-the-job guide – leaders will be able to review key points that will help them during their day-to-day responsibilities as managers.
 Follow-up activities – All courses include 6-weeks of micro-learning activities. These activities are used as competitions when the training is used in a group learning format.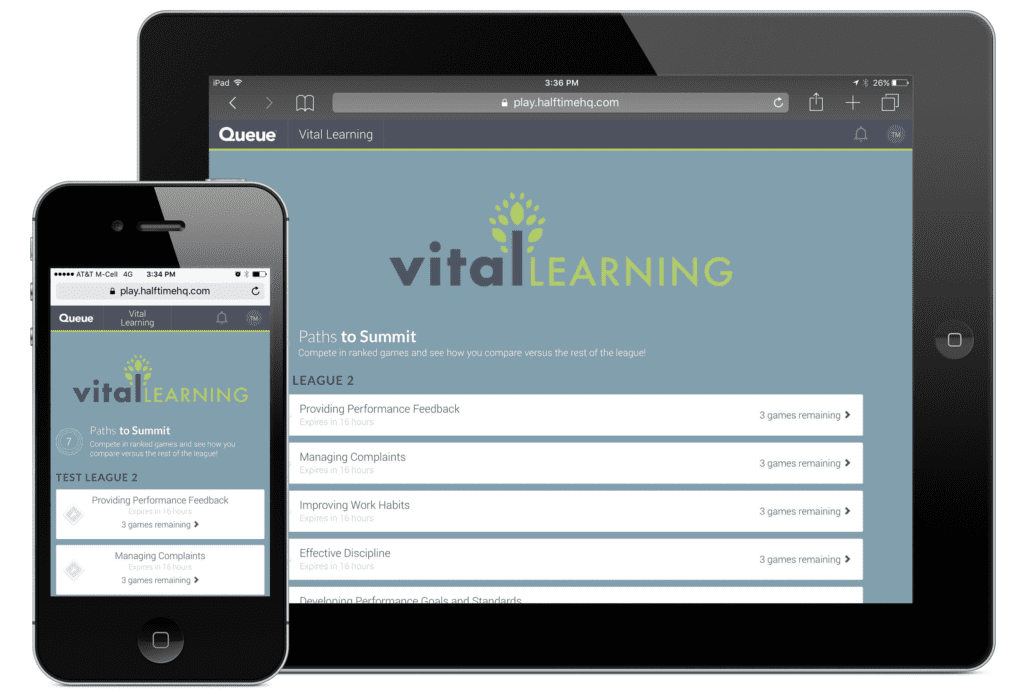 Frequently Asked Questions
Try our pilot package: Buy 20 workbooks and get a free facilitation kit.