Essential Skills of Leadership
In just one half-day, you can equip team leaders with the skills that are essentials to their leadership.
These foundational skills make the difference between highly engaged teams and disengaged teams,  estimated to cost between five and six billion annually to US business alone. These skills are surprisingly simple, but not common practice. Here are the core skills in the Essential Skills of Leadership:
Develop or maintain team member self-esteem

Focus on behavior (not attitudes)

Encourage team member participation

Lead Effective Meetings
The Essential Skills of Leadership focuses on helping leaders connect the dots between what's expected of them as leaders and how to do it. The course starts by outlining a learning path that includes how leaders will learn how to focus on employee behaviors (not attitudes). then, leaders will learn how to maintain or enhance their direct reports self-esteem. Furthermore, leaders will learn how to effectively run team meetings that encourage team member participation.
Leaders end the course by completing a variety of scenarios where they must use the skills they learned. After, they will receive follow-up activities to ensure that what they learned is both used and retained.
Learning Objectives
Achieve specific leadership tasks by deploying a problem-solving discussion method to lead meetings and empower others.

Acknowledge contributions, results, and accomplishments to enhance self-esteem.

Base discussions about performance and work habits on behavior rather than on personalities and attitudes.

Involve team members in goal setting, problem-solving, and decision-making.

Deploy meeting management skills to meet the goals of the meeting in the available time.
In-person, Online or Blended learning options
Are you a new manager looking to learn how to effectively coach your direct reports? Perhaps you are an HR professional looking to bolster your organization's leadership development program by teaching Leadership Skills. This course fits both training needs because it is available in multiple formats.
What does the course cost?
The pricing below is for a single workbook or single online course credit for one leader.
Education pricing is available for workforce development programs through local colleges. Organizations that have 25 or more managers are able to purchase a subscription to the full course. Please email us for details.
Free and engaging follow-up training
Regardless of the training option that you choose, you will receive access to follow-up tools that will help leaders retain and apply what they learn. The tools range from printable handouts that leaders will use as a guide as they apply what they learned on the job.
On-the-job guide – leaders will be able to review key points that will help them during their day-to-day responsibilities as managers.
 Follow-up activities – All courses include 6-weeks of micro-learning activities. These activities are used as competitions when the training is used in a group learning format.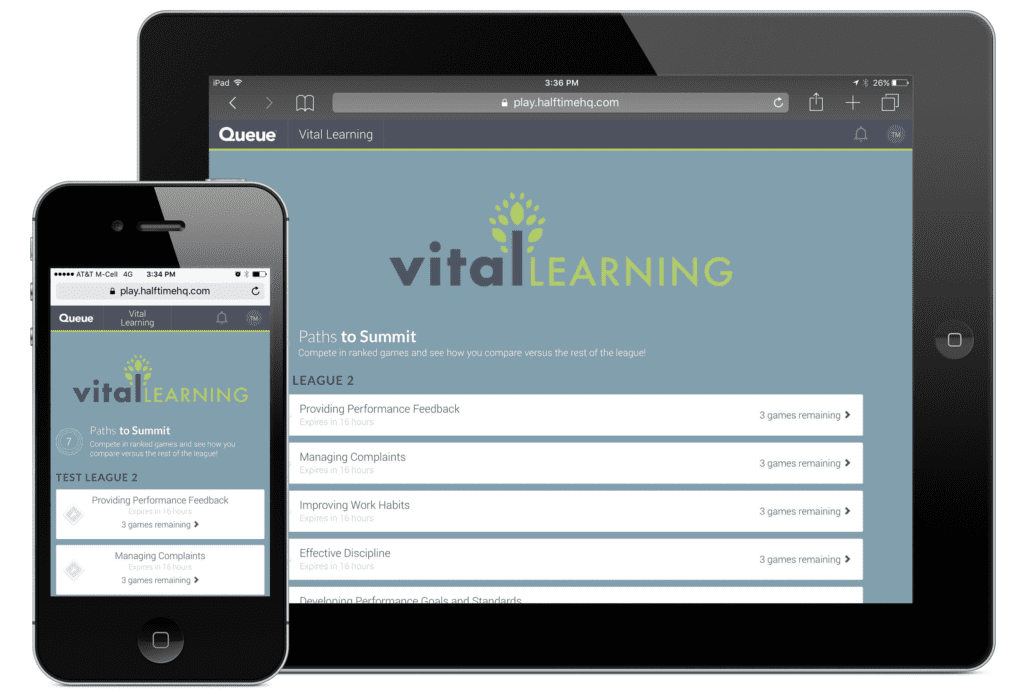 Frequently Asked Questions
Try our pilot package: Buy 20 workbooks and get a free facilitation kit.