The Team Dimensions Profile 2.0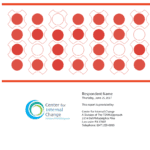 For Team Development. Discover your team talents.
Online Version of the Team Dimensions profile by Wiley Workplace Learning Solutions.
View Sample Team Dimensions 2.0 Profile
View Sample Team Dimensions Group Report.
The "Team Dimension Profile" online version offers an expanded team model compared to the paper version:
Expanded model and detail
Computer scored personal profile that is immediately available to you upon completion.
Includes additional information, plus a gap analysis.
Test takes 10 minutes to complete.
View the profile on screen, print it out, or send it as email.
You can save your report as a PDF file for future reference.
Team Dimensions Profile 2.0 Research Report.
Discover the Right Roles for the Right People
This profile identifies four key roles in team performance:
Creator: Generates original concepts, goes beyond the obvious, and sees the big picture. Hands off tasks to an Advancer.
Advancer: Recognizes new opportunities, develops ways to promote ideas, and moves toward implementation. Hands off tasks to a Refiner.
Refiner: Challenges and analyzes ideas to detect potential problems and may hand plans back to an Advancer or Creator before handing off tasks to an Executor.
Executor: Lays the groundwork for implementation, manages the details, and moves the process to completion.
This profile uses the "Z Process" to map the flow of assigning roles, completing tasks, and handing off tasks to other team members. Using the five roles in the "Z Process" gets new teams moving forward quickly and gets current teams unstuck.
Capitalize on Individual Strengths for Total Team Performance
ThisProfile helps teams in your organization:
Identify individual strengths and approaches to teamwork
Clarify team members' roles
Reinforce the contributions of every team member
Reduce project cycle time and increase productivity
How to Purchase the Online Individual Report
We offer the following volume pricing for this profile. Please note that the below prices indicate the cost of each individual profile within that quantity range.
| Quantity | Price Per Profile |
| --- | --- |
| 1 – 24 | $43.00/each |
| 25 – 49 | $41.00/each |
| 50 – 74 | $38.50/each |
Contact us for orders of 75 or more for even bigger savings.