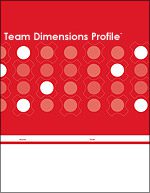 The Team Dimensions Profile is a learning tool for team building and team development. Successful team members have unique talents and strengths. They do the right thing at the right time. And while team members work together toward a common goal, individuals still must play their individual roles in the team process. As organizations rely more and more on teams to innovate, problem solve, produce, and compete, clearly understanding and capitalizing on the dimensions of individual approaches to group processes is accentual to making highly effect teams.
Discover the Right Roles for the Right People The Team Dimension Profile identifies four key roles in team performance and team talents:
Creator: Generates original concepts, goes beyond the obvious, and sees the big picture. Hands off tasks to an Advancer. Advancer: Recognizes new opportunities, develops ways to promote ideas, and moves toward implementation. Hands off tasks to a Refiner. Refiner: Challenges and analyzes ideas to detect potential problems and may hand plans back to an Advancer or Creator before handing off tasks to an Executor. Executor: Lays the groundwork for implementation, manages the details, and moves the process to completion. The profile uses the "Z Process" to map the flow of assigning roles, completing tasks, and handing off tasks to other team members. Using the five roles in the "Z Process" gets new teams moving forward quickly and gets current teams unstuck.
Capitalize on Individual Strengths for Total Team Performance The Team Dimensions Profile helps teams in your organization:
identify individual strengths and approaches to teamwork
clarify team members' roles
reinforce the contributions of every team member
reduce project cycle time and increase productivity
 Team Dimensions Profile Quantity Prices
| | | |
| --- | --- | --- |
| Min Quantity | Max Quantity |  Price Per Profile |
| 1 | 49 | $24.00 |
| 50 | 99 | $22.50 |
| 100 | 249 | $20.95 |
| 250 | 499 | $19.50 |
| 500 | — | $19.00 |

For Center for Internal Change Clients Only: Purchase the team Dimensions paper or online profile and receive a free customizable power point presentation for facilitation.
Please Note: When ordering one or two profiles, or for international shipments, it can sometimes be cheaper to purchase the online version since you will not pay shipping costs.