EPIC Administrators can now Edit / Add / Delete, and manage employees when using Everything DiSC Catalyst.
Catalyst is a unique learning platform designed specifically for Everything DiSC. EPIC is the administrative portal for Everything DiSC. Trainers, coaches, and facilitators can now use EPIC to manage their Everything DiSC organization(s). 
On Catalyst, administrators now have the ability to assign their employees or individuals they are coaching or training to a specific department. This new functionality will make it easier for administrators of larger organizations to organize their employees.
The Department feature is used to filter employees in the same organization within the Your Colleagues feature on Catalyst and is defined by the learner during the account set-up process. To improve the effectiveness of the department filter functionality, department editing capabilities are now available within EPIC. With this change, EPIC administrators can now:
View all organizations they have assigned Catalyst access codes to on the Manage My Organizations page
Add new departments to an organization
Edit existing department names
Transfer Catalyst access codes from one department to another
Delete empty departments
To use this new functionality, you can take the following steps in EPIC:
Click 'Manage your Account' -> 'Manage My Organizations'
You will then see the below screen: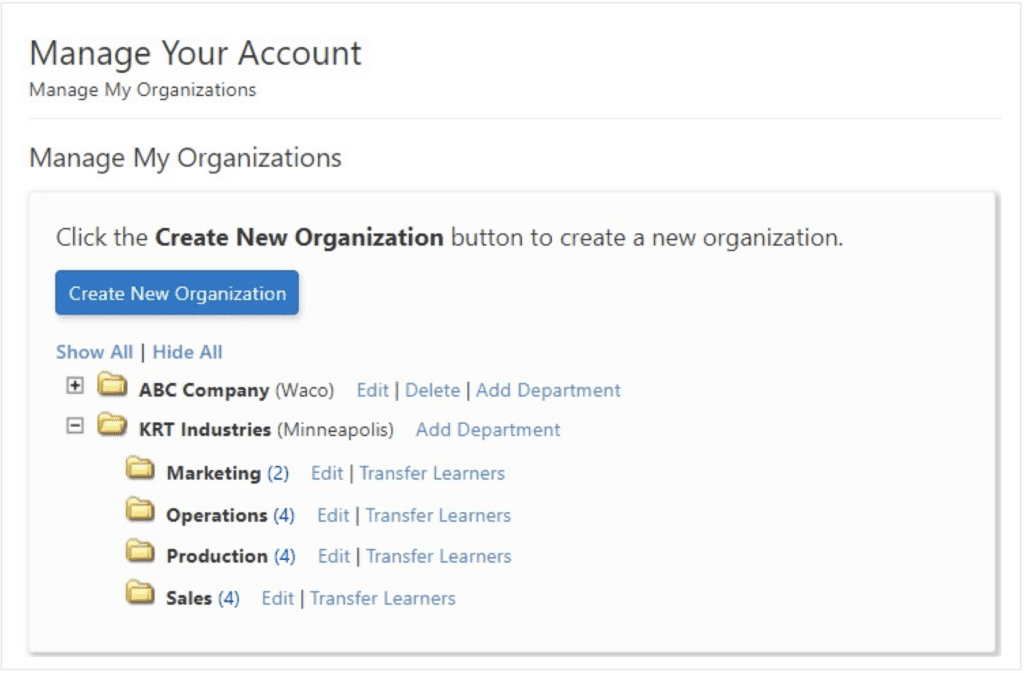 On this screen, you can use the 'Edit', 'Delete', Add Department' or 'Transfer Learners' buttons to make the changes you need to make.
We believe this functionality is really helpful for EPIC administrators to have the ability to designate individuals based on teams, departments, events, or any other situation where training will require your employees to quickly find each other when using Catalyst.
For additional help in using this function, please watch the below video: