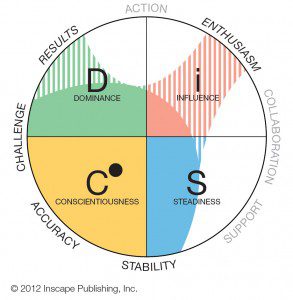 Everything DiSC Workplace® Facilitation Materials
In-depth: Three 90-minute modules; fully-scripted facilitation with engaging activities and workplace-focused video. Includes 30-minute optional people-reading module. Easy Customization: Switch out video clips. Modify the PowerPoint, Leader's Guide, and handouts. Add or delete sections to fit any time-frame.
The Everything DiSC Workplace Facilitation Kit includes:
Leader's Guide in MS Word PowerPoint® with embedded video
Stand-alone, menu-driven video
Participant handouts in MS Word Templates and images Sample
Everything DiSC Workplace Profile Sample
Everything DiSC Comparison Reports
Online resources and research
Everything DiSC Workplace Guides
User-Friendly Features: Total Portability: Facilitation, video, PowerPoint, and participant handouts delivered on a USB drive or (CDR upon request).
Online Support: Get the latest best practices for customizing your program anytime with the new online help feature. Access up-to-date research and resources.
Module 1: Discovering Your DiSC Style
Participants discover how DiSC styles affect their Workplace relationships and explore the priorities that drive them at work.
Module 2: Understanding Other Styles
Participants learn what works for them and what challenges them when working with each DiSC style.
Module 3: Building More Effective Relationships
Participants create strategies and an action plan to overcome challenges when working with people of different DiSC styles.
Everything DiSC People-Reading Optional Module
Participants learn how to identify others' DiSC styles based on behavioral cues.
Engaging In-depth Video
Contemporary video includes a seven-minute introduction to DiSC workplace styles plus 13 additional segments.
Easily Customizable: Works three ways: stand alone clips, integrated with the facilitation PowerPoint®, or integrated into your custom PowerPoint presentation.
Everything DiSC Workplace Training and Facilitator Kit: $1,095.  
View Sample Videos Below.
Intro To The Everything DiSC
Better Workplace Communication