Time Mastery Profile® - Paper Version
This product was discontinued by the publisher.
This assessment is no longer available. Please contact us for a recommended replacement tool.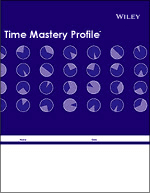 For personal time management – by Wiley Workplace Learning Solutions Paper Version. Get our fact sheet.
We cannot master time, but we can learn to mastery our use of the time that we have.  We are each under pressure to generate innovative and creative means of achieving outcomes and goals, staying a head of the competition, acting rapidly in real time to meet customer/client needs, and yet enjoying life outside of work. It has become increasingly stressful in today's workplace. Meeting the daily challenges of managing professional and personal responsibilities requires a set of learning strategy that focuses on individual needs, as well as results.
Learn to Create More Time In Your Day Through Time Mastery
By reducing staff's wasted time by just five minutes per hour, productivity would increase 8.3%. Efficiency would also rise as employees devoted more time to completing critical tasks. Clear advantages of mastery in time management ability include:
accomplishing more each day
meeting project deadlines
serving more customers without added staff, equipment, or office space
spending more time pursuing opportunities and less time doing paperwork and attending meetings
Tap Into A Powerful Tool for Self-Assessment
The
Time Mastery Profile
is a unique tool that provides people with a complete self-directed assessment of their current time-management effectiveness. The instrument contains 60 statements that describe employees' time-related behavior in 12  key categories:
Attitudes
Goals
Priorities
Analyzing
Planning
Scheduling
Interruptions
Meetings
Written communications
Delegation
Procrastination
Team time
Transform Self-Awareness Into Results The Time Mastery Profile includes a workbook with practical tips to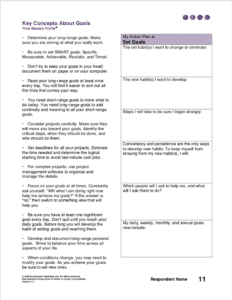 help employees improve their time-management skills in 12 key categories. The workbook supplies a detailed framework for a personal action plan under each of the 12 headings. Written in contemporary language for all levels of the organization, the Time Mastery Profile is comprehensive and fast. Most people need less than one hour to take the first steps toward more effective management of their time.This time mastery management assessment profile was designed to help you develop a customized time management system to optimize your busy schedule and personal style. Use it to increase individual and  organizational productivity, efficiency, and profitability, while reducing stress and balancing the demands on your time and life. Because the Time Mastery Profile focuses on behavior, it can be effectively used with any calendar or planner. It is also ideal for both work balance and work/life planning.
Inscape Publishing's Time Mastery Profile is an ideal tool for helping individuals understand their strengths and weaknesses in time management. The Time Mastery Profile provides an assessment tool and a personalized action planning workbook in one time management resource. Our online version even adds a skill gap analysis to even more clearly develop a strategy of highly effective time master, management and delegation.
The Time Mastery Profile® is a unique tool that provides people with a complete, self-directed assessment of their current time management effectiveness.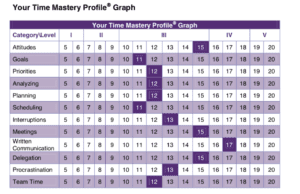 The Time Mastery Profile also helps people to more effectively use planners, calendars, PDA's, and other time-management tools to accomplish more and find greater balance in their daily lives. This book and assessment is designed to work with and complement other time management systems such as Day-Time®, FranklinCovey and other programs and daily planners. The Time Mastery Profile helps people discover their time-management strengths, develop new skills for improved performance, focus on priorities, increase productivity, meet customer needs, and respond to opportunities while reducing stress.