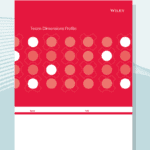 Team Dimension Profile™ Facilitator Kit
Team building and team development facilitator kit for training and workshops. This is a train the trainer kit with a complete research based customizable workshop training program. Successful team members don't do the same thing at the same time. They do the right thing at the right time. While team members work together toward a common goal, individuals still must play their individual roles in the process. As organizations rely increasingly on teams to innovate, problem solve, produce, and compete at the speed of change, clearly understanding and capitalizing on individual approaches to and group dynamics and process is the bottom line on creating high performance teams.
Understanding team dimensions helps you to discover the right roles for the right people.
Featured in Ray Dalio's New York Times' Best-seller, Principles, the Team Dimensions Profile is about team process. It identifies five key roles in innovative team performance:
Creator: Generates original concepts, goes beyond the obvious, and sees the big picture. Hands off tasks to an Advancer.
Advancer: Recognizes new opportunities, develops ways to promote ideas, and moves toward implementation. Hands off tasks to a Refiner.
Refiner: Challenges and analyzes ideas to detect potential problems and may hand plans back to an Advancer or Creator before handing off tasks to an Executor.
Executor: Lays the groundwork for implementation, manages the details, and moves the process to completion.
Facilitator: Works throughout the process to ensure tasks are handed off to the right people at the right time.
The profile uses the "Z Process" to map the flow of assigning roles, completing tasks, and handing off tasks to other team members. Using the five C.A.R.E. (Creator, Advancer, Refiner, Executor) roles in the "Z Process" gets new teams moving forward quickly and gets current teams unstuck.
Facilitator's Kit includes:
2 Facilitator Manuals
Volume 1: Facilitator's Manual – Learn how to administer and interpret the Team Dimensions Profile for best results. Includes research & technical background.
Volume 2: Scripted Seminar – A complete Team Dimensions Profile facilitator's script with applications, individual, & group activities for impactful learning.
Presentation Materials
PowerPoint Presentation in 2 Formats: Dark Background/ Light Background
Reproducible Team Dimensions Profile participant handouts
PC and Mac Compatible
Customizable PowerPoint Presentations
One complete set of Hit the Mark learning game supplies
Note: The Team Dimensions Facilitator Kit should be used with the Team Dimensions paper profile only. 
The Complete Kit for $599.00