Personal Listening Profile Facilitator's Kit
**This item has been discontinued**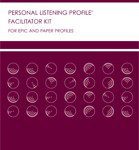 Personal Listening Profile Facilitator's Kit
View the Overview outline of the Personal Listening Profile Facilitator's Kit
Good communication is one of the most valuable skills in any organization. And effective listening skills are critical to communicating productively inside the organization and meeting the competitive challenges outside the organization. The Personal Listening Profile helps people become effective active, purposeful listeners in multiple situations resulting in more productive communication.
Discover the Impact of Five Listening Approaches
It's estimated that people screen out or change the intended purpose of what they hear in over 70% of all communications. The major factor contributing to these mis-communications is our listening approach. Behavioral research indicates that people listen with a preferred listening approach.
The Personal Listening Profile® describes five listening approaches:
Appreciative: Listens in a relaxed manner, seeking enjoyment, entertainment, or inspiration
Empathic: Listens without judging, is supportive of the speaker, and learns from the experiences of others
Comprehensive: Listens to organize and make sense of information by understanding relationships among ideas
Discerning: Listens to get complete information, understand the main message, and determine important details
Evaluative: Listens in order to make a decision based on information provided and may accept or reject message based on personal beliefs
Match Listening Approaches to Communication Needs
The Personal Listening Profile® helps people in your organization:
discover their natural approach to listening
capitalize on their listening strengths
learn how different listening approaches impact listening effectiveness
improve their ability to understand the purpose of different communications
use listening approaches appropriate to the situation
overcome listening barriers and reduce conflict
enhance individual and team performance
The Personal Listening Profile Facilitator Kit includes:
training lesson plans in a modular format
the ability to customize your program to include only lessons relevant to your training needs
the full program delivered on a USB drive the supports both the online version and the paper version.
Leader's guide in MS Word®
PowerPoint presentation with video and/or audio. See sample video below.
Participant handouts in Word
Lessons included with online version
Introduction
Understanding What Influences Listening
Identifying Your Listening Approach
Exploring Strengths and Challenges
Recognizing When to Use Approaches
Understanding Communication Gaps
Recognizing the Behaviors of Each Listening Approach
Improving Your Listening Skills
Wrap Up
Lessons included with Paper Version
Introduction
Recognizing Communication Barriers
Identifying Your Listening Approach
Understanding Your Listening Approach
Considering Others When You Communicate
Improving Your Listening Skills
Practicing Effective Listening
Wrap Up
Support materials include:
Template files for handouts and table tent cards
Personal Listening Profile Facilitator Kit Program Overviews
Personal Listening Profile Facilitator Kit User Guide
Frequently Asked Questions
Sample Personal Listening Profile (EPIC version)
Sample Personal Listening Profile Facilitator Report
Personal Listening Profile Research Report
Out of print.
Related Products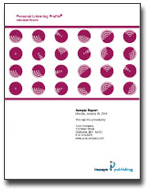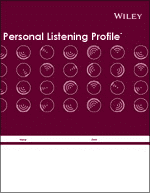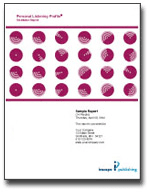 Featured Case Study
Short annotation goes here that describes the content of the case study, highlighting the outcome.

Featured Research Report
Research on and of validation of the Personal Listening model.