This product is discontinued by the publisher.
This kit was discontinued on June 30, 2022. We recommend switching to the newer Everything DiSC Workplace assessment and facilitation kit.
Are you looking for a training program that will help teams work more effectively? 
The DiSC Classic Facilitation System program is designed as a user-friendly training system. It is easy to understand and it seamlessly supports the graph-based DiSC Classic product line published by John Wiley & Sons (formerly Inscape Publishing).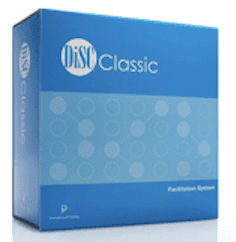 Solution-Focused DiSC Training and Facilitation Kit
Purchase the DiSC Classic Facilitation Kit. This training supports the DiSC Classic Profiles.
Completely Customizable to Meet Your Training Needs
You can easily and rapidly create DiSC Classic-based training solutions using the provided course outlines and modular designed scripts. Create trainings for multiple needs and scope:
Effective Communication
Conflict Management
Interpersonal Effectiveness
Management Effectiveness
Team Effectiveness
What Training is Included?
The DiSC Classic Facilitation kit includes 14 unique Insight Modules. All of these modules are fully scripted and customizable. You can build a specific training program for a specific need for your team. The kit includes the following modules:
Introduction to DiSC Module.

Debriefing Module.

Administration of DiSC Classic – paper version.

Discover Four Styles of Behavior and Explore the General Preferences of Your Style.

Learn about your Strengths and what happens if they are Overused.

Learn about your Behavior When you are in Conflict with Others.

Learn how to Recognize the Styles of Other People

Understand how Others Interpret Your Behavior.

Learn how to Adapt your Style to Facilitate Effective Relationships.

Understand What Motivates you at Work.

Learn how address goals and fear commitment.

Learn to adapt your management style

Sales/Customer Service-Learn to adapt to your customers style.

How to benefit from using the DiSC Group Culture Report.
More than one hour of video in 68 segments
Over 100 professionally designed, customizable PowerPoint slides
Professionally designed handouts for creating participant manuals
PowerPoint and handout templates
Sample reports for online DiSC products facilitated in DiSC Classic Facilitation System
One QuikDiSC® Card Set
25 DiSC Classic People-Reading Guides.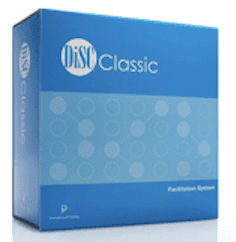 Flexibility and Stabilization. Modular design helps consultants and trainers, from beginners to professionals, create numerous DiSC-based solutions of any scope. With a single investment.
Convenience. The combination of Course Outlines and Insight Modules gets you going with a wide variety of DiSC solutions right out of the box.
Experiential Learning. The DiSC Classic Facilitation System includes more than 20 individual and group exercises, plus alternative activities so you can tailor programs to your style and the needs of your audience.
Multiple Resources. You will have knowledge of and the ability to integrate the following into your trainings:
Create Simple, Effective, DiSC-Based Solutions
DiSC Classic Facilitation System is built on a series of Insight Modules that help facilitate specific outcomes, or "insights," using a broad range of DiSC-based reports and tools. With the Insight Modules, you can:
Create simple, effective DiSC-based training solutions
Learn which DiSC tool works best for your desired outcome
Discover how to combine DiSC resources for better results
Customize your own DiSC-based training solution
Contact us if you have questions: