DiSC® Sales Action Planner Paper – Discontinued in 2018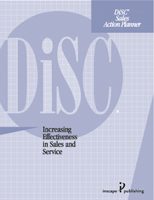 As of 2018, the DiSC Sales Action Planners are discontinued by the Publisher, John Wiley & Sons. While loosing a product is unfortunate, we have two products that would be a great replacement if you have used this product in the past for your sales teams.
Everything DiSC is the most advanced version of DiSC available on the market. This product is only available through an online format, and utilizes Computerized Adaptive Testing to create an extremely personalized report. Whereas the DiSC Planners used 10-forced choice questions to determine a person's DiSC Behavioral Style, Everything DiSC has 124 available questions. Don't worry, your participants won't be asked all of these questions. With Computerized Adaptive Testing, participants are only asked additional questions if they are answering conflicting questions affirmatively (i.e. "I enjoy interacting with others" and "I am reserved"). If you are a person who answers questions that only point to a particular style you could potentially finish the assessment sooner than other DiSC Classic
What does this mean for your for your Sales people? Not only are they getting a more personalized DiSC report that will allow them to understand themselves better, they are also getting a report that focuses on their Sales style. The Everything DiSC Sales report is geared to help a person identify what DiSC style their customer might be, and then adapt their own style to match the customer they are interacting with. To enhance this report even more, Everything DiSC Sales provides free, unlimited online-customer interaction maps through MyEverythingDiSC. If your sales team is dealing a customer that they are having a hard time interacting with, they can take this exercise on their phone or desktop computer, and learn how to adapt their style.
The Everything DiSC Sales report is sold based on volume, and starts at $107.50.
or
If your team doesn't have access to a computer, and you are looking for a paper instrument, the DiSC Preview would be a great replacement and offers a user-friendly introduction to DiSC behavioral dimensions.
The DISC Preview is designed as an introduction to DiSC and the DISC behavioral styles or personality types. It is a practical and useful approach to understanding personal behavioral styles and the behavior of others. Use this with your Sales team as a way to talk about behavior and identify how your behavior can help or hinder how you interact with your customers.
DiSC Previews are sold based on quantity:
1-24 are $9.99 each
25-199 are $9.40 each
200 or more are $8.80 each