DiSC® Sales Action Planner Paper & Online Versions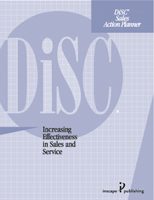 Increasing Effectiveness in Sales and Service With DiSC
The DiSC® Sales Action Planner helps you create successful sales strategies and increase client receptivity and sales results by applying DiSC to sales and the selling process.
You will learn to quickly identify a prospect's 'comfort zone' in the sales process and determine the best ways to open the call, make the presentation, negotiate, close the sale and maintain positive client relationships.
With the DiSC Sales Action Planner you will be directed to select a prospective client or customer. Then you will be asked to think of him/her in a specific sales situations. After answering eight question about this person and determining their DiSC profile you will then explore the disc sales behavioral strategies. You will learn the buying strategies or each D, I, S, and C DiSC Dimensions of Behavior. This includes a chart with each DiSC style's buying goal or what drives them to buy; their fear drive or what they avoid in a buying situation; their basis for making a buying decision; strategies for selling to them and you will determine your product or service's benefit to them.
You will next be taken through a brief process to determine how to adapt to a clients DiSC style for your DiSC style, comparing their focus, social interaction style, information needs and pace to yours.
Next you will see the sales strategies for each DiSC style. This chart takes you through planning, opening, interviewing, presenting, responding to concerns, gaining commitment and servicing you clients or customers.
Lastly you will create a sales action plan to carry out and then following your sales meeting you will go through a debriefing, buy asking yourself a short series of questions about how you did in relation to your sales strategy.
DiSC Sales Action Planners Paper Version
$99.00 for set of 10