DiSC Managing Performance Action Planner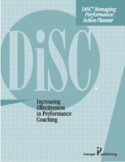 The DiSC Managing Performance Action Planner is a quick DiSC Model based performance coaching tool.  This performance management DiSC profile contains eight question to be filled out by the manager, coach, or mentor.  These questions are designed to rapidly determine the DiSC style of the person to be profiled.  The results provide an effective way to manage, coach, and lead others. You will be able to assess the profiled person's strengths and motivation, then plan and implement strategies that enhance productivity. This Action Planner is an easy to us tool for managers, supervisors, and coaches at all levels. This is also an easy way to incorporate the DiSC model into any coaching program.
You can us the DiSC Managing Performance Action Planner to identify an employee's DiSC behavioral style and gain insight into the employee's goals and fears. Then, based on the employee's willingness and ability, then you can adapt how you manage performance through one of the following approaches:
Direct
Supportive
Combination
Empowering
The results provide feedback on how to build disc-based strategies and how to motivate base on behavioral style.  For each of the D, i, S, and C you will learn about what goals that drives them; their fears that drive them and their strengths.  Then there is a brief section on how to adapt your DiSC style to better and more effectively communicate with this person in their comfort zone.  Next there is a matrix that provides strategies for managing performance using one of four strategies based on the person's DiSC style.  Lastly you are taken through a brief process to develop an actual action plan for managing the performance of the individual you are focusing on.This action plan includes three steps: 1) Planning; 2) Debriefing; and 3) Following Up.
DISC Managing Performance Action Planner Paper Version
$9.99/each. Please note that these are a discontinued item and stock is limited. If we can not fulfill your order, you will be refunded.