DiSC® Customer Service Action Planner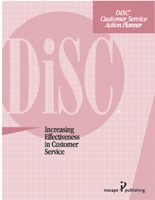 Once you're grounded in DiSC®, use these Action Planners to fully utilize what you've learned. Increase customer satisfaction and service by identifying your customers' primary DiSC® Dimensions of Behavior and their preferred approach to communication and problem solving.
Use the DiSC Customer Service Action Planner  by Inscape Publishing to identify a customer's DiSC behavioral style and develop effective responses to better meet their needs. Then, use the information for:
greater customer satisfaction
dealing with customer concerns
creating a successful service plan
gaining greater customer loyalty
$99 for a set of 10. Please note that these are a special order product and may take more than a week to receive. Contact us with questions.